iPhone X's $1000 cost? It's a "value price", says Apple's Tim Cook
59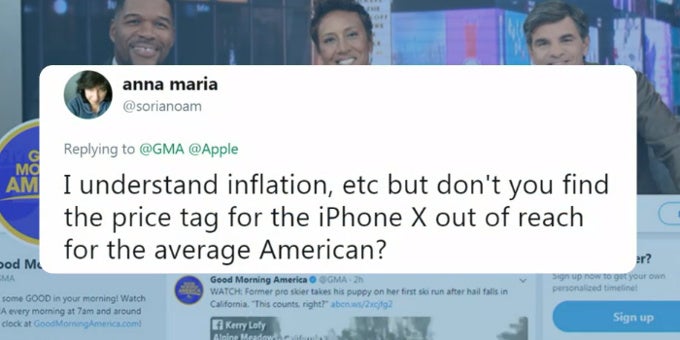 The
iPhone X
is the most expensive iPhone ever made and actually the most expensive mainstream phone ever sold with a starting price of $999, but if you ask Tim Cook, he will give you a different perspective on that price.
In a recent ABC News appearance, Apple's chief executive said that the $1,000 price of the new iPhone X is a "value price, actually", considering the technology that has gone inside the device.
The response came to a question on Twitter that asked whether Cook thinks that the new iPhone X is out of reach for the average American.
And here is Apple's chief executive full response:
"Well it's a value price, actually, for the technology that you're getting, and, as it turns out you know most people are now paying for phones over long periods of time, and so very few people will pay the price tag of the phone initially. Also, most people actually trade in their current phone, and so that reduces the price further, and some carriers even throw in subsidies and discounts. So, when we look at it the phone – the iPhone in particular – has become so essential in our daily lives, people want it to do more, more, and more and so we built more and more technology in to be able to do that."
Interestingly, the Apple iPhone 8 that has just been launched seems to be selling at a slower pace than usual, which suggests that many users are holding back to purchase the newer and better iPhone X.
"Apple has never been about selling the most of anything ... We want to help people"
While it's clear that there is a lot of interest for the iPhone X, is it really "a value price"? Apple has certainly invested a lot of money to make this new bezel-less phone possible, but claiming that a $1,000 phone is offered at a "value price" still seems far-fetched to the average consumer.
"Apple has never been about selling the most of anything – that is not our objective, our objectives are not big revenues, our objective is to make the best product that enriches peoples' lives. We want to help people."
Apple's Tim Cook further emphasized that Apple is all about helping people, but let's not forget that the company is the world's richest and consistently commands a nearly 40% profit margin on its products, the highest of all phone makers.