iPhone OS 4 code includes camera flash functions
This article contains unofficial information.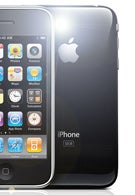 Yesterday's
sneak peek at iPhone OS 4
was very exciting for all iPhone users, since it was made clear that many new features like multitasking and iBooks will make their way to the platform as soon as this summer. However, as Apple also released a developer preview of the code, people are now starting to speculate on the rest of the features that will come with the new software, or even, with the next-generation iPhone hardware.
It appears that in addition to new settings like digital zoom and probably white balance, devs have also located the following functions:
AVCaptureDevice.hasFlash
,
AVCaptureDevice.flashMode
, and
AVCaptureDevice.hasTorch
. These of course hint at the presence of camera flash in the next iPhone (presumably to be announced this summer). Sounds like Apple has decided to heavily improve their piece of hardware in terms of camera performance. This will be especially true in case the reports about OmniVision's deal to
supply about 45 million 5MP camera sensors
for the successor to the 3GS, are also true. In other words, we may soon see a great smartphone become a great... camera phone?
Apple iPhone 3GS Specifications
|
Review
source:
AppleInsider