All iPhone and Galaxy BOGO-type deals disappear on US carriers, analysts have an idea why
7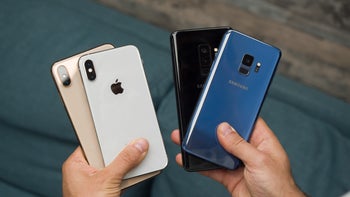 Back when the
iPhone 7
was announced, T-Mobile started an all-out carrier war with its free BOGO offer, unleashing a pricing match that ultimately left every carrier poorer than it would be otherwise. Last year, while compiling our
best deals on the new iPhone 8
preorders, we couldn't help but notice that there is barely a straight BOGO on the table. For the iPhone's 10th anniversary editions, T-Mobile bit its tongue and only gave away a bit more generous trade-in offers, plus a new iPhone upgrade program.
This made Wall Street investors sigh with relief, and they didn't maul carrier stocks then. To a certain extent, the no-BOGO trend seemingly continues with the
iPhone XS
,
XS Max
and other flagships this year.
Verizon
,
T-Mobile
, and
AT&T
all started with $700 off the new iPhones, but that well has now dried up. These weren't even BOGO deals but rather a set amount that was returned to you in the form of bill credits, and even those are now inactive. According to research firm Wave7 that has been a well-thought-out strategy:
T-Mobile and Verizon in late September pulled their BOGO offers, AT&T has added TV/Internet requirements to its BOGO, and Sprint has raised Galaxy switcher pricing while easing up on Kickstart and 'flash sale' offers. Wave7 Research believes that this is likely not a secular trend, just a lull between the iPhone XS launch on 9/21 and the iPhone XR launch on 10/26.
That last part is pretty important, though, as the analysts consider the
iPhone XR
launch to be the one that may start a real bidding war among America's largest carriers for signing up users that will be enticed by Apple's cheapest phone for the year. For now, if you want good deals on an iPhone XS or XS Max, you are out of luck, but that would reflect positively on carrier stocks if that has been your concern all along.
Another interesting observation is that, instead of pushing BOGOs and other promos, carriers are increasingly trying to lull pre-paid subscribers into regular post-paid plans with more megabytes and extra perks, indicating one more avenue to pad the bottom line, while avoiding a promotional price war.