iPhone 8 and iPhone 7s reportedly on track for October retail
15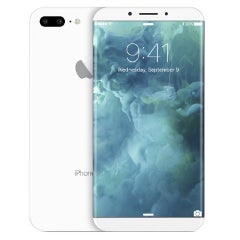 According to numerous reports over the past few months, Apple will be pulling out all of the stops to mark the ten year anniversary of the iPhone. As well as the
iPhone 7s
and
7s Plus
-- two phones we'd expect given Cupertino's long-standing 'tick-tock' release cycle -- it's also possible that a special
iPhone 8
will launch with an OLED display
among other perks
. As exciting as the iPhone 8
sounds in theory
, bringing it to fruition has apparently been difficult, with some reports suggesting that it could be pushed back as far as November. A new tidbit runs with the slightly more promising notion that both the iPhone 7s and iPhone 8 series will go on sale in October.
Apple has unveiled its iPhones in September for the past few years now, and according to Chinese newspaper
Economic Daily Times
, this trend will repeat itself for the next-gen models. Per the new report, the fruit company will begin to sell the iPhone 7s/8 during the following month, though as one might expect at this early stage, no firm dates have been offered.
We've heard on a few occasions that Apple initially desired to have the Touch ID fingerprint scanner baked into the OLED display of the iPhone 8, but
hasn't been able to refine the tech
in time for this year's launch. While it's entirely possible that future-gen iPhones will be furnished with such technology, it seems that the iPhone 8's fingerprint hardware will be located on the rear. Samsung is said to have
faced similar issues
with the
Galaxy S8
and
S8+
, which both subsequently sport rear fingerprint scanners in lieu of an integrated, on-screen experience.
If this new report is accurate, early adopters will be able to claim their shiny new iPhone 7s, 7s Plus or iPhone 8 from October. Since we're only in May, however, there's still scope for this to change several times over, so we'll put our excitement on hold for the time being.