iPhone 6 (both versions) vs LG G3: first look
48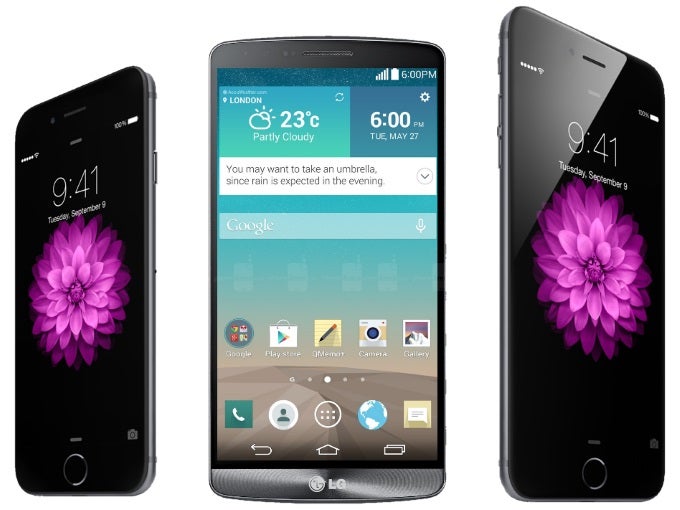 With the iPhone 6's 4.7-inch and 5.5-inch variants, Apple is going to war with Android phones. Caught in the crossfire is the
LG G3
, a 5.5-inch phablet that has an interesting arsenal to defend its territory against the iPhone 6 Plus's onslaught. It's a great looking, supremely powerful smartphone that remains one of Android's better war-machines. It has lasers! Literally! But how does the QHD monster from South Korea compare with Apple's shiny 4.7-inch and 5.5-inch metallic assassins?
Design
The iPhone has such a distinct and iconic design, that comparing it with anything else is a bit like comparing any car to a Ferrari. But the LG G3 is not some run-down 1996 Honda Civic, is it? While their build quality and materials is wildly different - the iPhones are unibody slabs of anodized aluminum, while the LG G3 is just a pleasant, solid plastic design - they are extremely elegant. The iPhones have their comfortably rounded corners, while the LG G3 boasts a carefully sculpted back that also hosts its power and volume keys. All will impress when you hold them in hand, but the LG G3's diminished screen bezels are more representative of late 2014 mobile beauty standards. And it's worth mentioning that the LG G3's back panel wards off fingerprints, but the iPhone 6 and iPhone 6 Plus feature oleophobic-coated displays.
In exact dimensions, the 4.7-inch
iPhone 6
measures 5.44 x 2.64 x 0.27 inches (138.2 x 67.1 x 6.9 mm), while the 5.5-inch iPhone 6 Plus is a humongous 6.22 x 3.06 x 0.28 inches (158 x 77.7 x 7.1 mm). In contrast, the LG G3 is a 5.76 x 2.94 x 0.35 inches (146.3 x 74.6 x 8.9 mm). There's no denying here that the 4.7-inch iPhone 6 is the phone that will feel best in everybody's hands. There's also no denying that the iPhone 6 Plus is absolutely huge in comparison to the LG G3, a phone that boasts the same screen diagonal. Despite Apple's best efforts, the LG G3 remains the most handy 5.5-inch smartphone for now.
Display
The iPhone 6's 4.7-inch display has a resolution of 750 x 1334 pixels at an adequate 326 ppi pixel density. Its bigger brother, the
iPhone 6 Plus
, amps up the visuals to 1080p and 401 ppi. And where does the LG G3 leave us? A 5.5-inch QHD (2560 x 1440) display, with an excessive pixel density of 538ppi, it's certainly not a bad place to be! Then again, as with most first-generation products, the specsheet-busting LG G3 display has its fair share of problems. It's a power-hog. For heavy users, the LG G3 has to be carried with a spare battery - which is not as bad as it sounds, by the way. Additionally, the display appears dim in comparison with other flagships. In addition, LG has applied an aggressive sharpening filter to it, making small text to appear with a white halo around the characters. The viewing angles are great, just not superb. Again, no deal breakers here, just weak points that surface when the display gets compared to Apple's. In comparison, Cupertino has a restrained approach to its display panels, which are sourced from LG Display, by the way. Their resolution is just big enough to deliver a crisp picture with your eyes being a normal usage distance away from the screen. They are as bright as they have to be to remain legible under direct sunlight. While 2K video and detail-dense images won't look as elaborate on the iPhone 6's display, you will get a more consistent experience out of it.
Interface
Both Apple's iOS 8 and LG G3's customized Optimus UI, which is based on Android, provide a colorful, but streamlined experience. iOS has the advantage of being easier to navigate and master, while the Optimus UI is more comprehensive. It is notable for making the most of the LG G3's roomy display by offering multi-window multitasking, one-handed keyboard and dialer modes. Apple has also implemented so-called
reachability
options for the iPhone 6 Plus's 5.5-inch screen. Otherwise, both interfaces are fully featured in terms of software. The LG G3 might not be having a personal assistant like Siri, opting for Google Now's formal, but witty presence instead. It also doesn't have an equivalent to Passbook and AirDrop, while iOS misses on some gesture controls and customization options, but the other bases are covered. Both the iPhone 6 and the LG G3 have cloud storage apps, health monitors, backup and security features (KnockCode being a novelty of the LG G3's), and more functionality that you'll love discovering.
Processor and memory

The iPhone 6 rocks a dual-core 64-Bit A8 processor and a powerful Imagination Technologies graphics unit. Meanwhile, the LG G3 wields a quad-core Snapdragon 801 processor paired with either 2 or 3GB of RAM, depending on whether you got the 16GB or 32GB version. Due to Apple's strict "walled garden" approach to iOS, the iPhone 6's comparatively modest hardware does a terrific job at running iOS 8 and demanding games, while the Snapdragon 801 in the LG G3 exercises a remarkable, yet slightly strained effort effort at pushing so many pixels to its QHD screen. Storage options is another interesting topic. Apple has banned microSD cards from its sacred lot, opting instead to offer the iPhone 6 in 16, 32, 64, and 128GB variants. The LG G3 has either 16 or 32GB of on-board storage, and a microSD slot that allegedly supports up to 2TB flash storage. Anyone got one of these laying around?




empty line
Camera
The iPhone 6, iPhone 6 Plus, and LG G3 are fantastic cameraphones. The iPhones have comparatively smaller 8MP main cameras with two-tone flash, while the LG G3 sports a 13MP shooter with the infamous Laser Focus system. Different as they are, all three phones are quick to focus and take great photos (for a smartphone camera). We're yet to pit them against each other in a camera test, but knowing they come from good performance backgrounds, we're excited at the proposition! Meanwhile, their front cameras are all 2.1MP units. But great as it is, the iPhone 6 doesn't have the LG G3's oddly entertaining selfie-taking gesture that lets you picture your mug by smiling and threatening the camera with a fist!
Expectations

We feel like the LG G3, although a few months older, is still a terrific proposition next to Apple's new iPhone 6, and it's 5.5-inch brother. However, the option of finally having an iOS-running phablet is ever so enticing! With all three smartphones being pretty to look at and a joy to work with, we feel the main considerations when choosing between them are the operating system and battery life. Long-time iOS users that lust after a huge screen will probably gravitate towards the 5.5-inch iPhone, which makes sense in all ways. Meanwhile, Android users in need of a QHD display or big-screen devices that are still comfortable to handle, have been getting more options lately. The new Galaxy Note 4 and Note Edge, for example, are very real threats to the LG G3 with their amped up hardware, equally slim bezels and overall dimensions. The LG G3 still remains a wonderful smartphone, but it's also a typical first-generation product that needs improving.