iPhone 5 to remote sync with updated Macs
2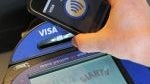 We've heard a lot of buzz about
NFC
(near-field computing), and its applications for
mobile payments
or e-wallets. The implementation of such technology will be greatly aided by the iPhone 5, which will support such mobile computing functions. But rumor has it that Apple is also adapting the NFC tech for advanced synchronization with their Mac computers as well.
The interaction between an NFC mobile device and an NFC-capable computer would mean that the user could instantly conform the computer to their personal settings, programs, and files. The Mac computer would then save the changes either via
MobileMe
, or the 'Back to my Mac' function.
An anonymous source offered the following: "The Mac authenticates with the
iPhone
, which contains a lot of the information the computer needs, such as bookmarks, passwords and other data...The system would essentially turn any Apple computer into your own — like you're actually working on your own computer. Same settings, look, bookmarks, preferences. It would all be invisible. Your iPhone
would be all you needed to unlock your Mac."
This kind of functionality would make working on a new computer a much more fluid undertaking. If you were studying at your school or public library, you could immediately have access to your documents, bookmarks, and contacts, eliminating the time and hassle of having to bring everything on a
USB
drive or access them from MobileMe.
If you are concerned about
security
, don't be. The host computer would revert to its original state, sans your personal data and files, as soon as you removed your device from its vicinity.
None of this is written in stone, but if it does come to light, it will mean some important changes in the upcoming OS X Lion. The new OS would have to include more integrated online synchronization elements.
source:
Cult of Mac
via
SlashGear
Recommended Stories