A security flaw in iOS 4.1 may expose your iPhone's photos and contacts
12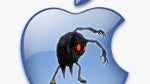 We hope you don't store confidential information on your
iPhone
, whether it's a state secret or provocative pictures of an ex-partner that your current significant other may get fuming about. And for a good reason, since a bug was found in iOS 4.1 that allows practically everyone to check out the Phone app on your iPhone, regardless of the passcode entry.
This security flaw is triggered by the simplest of tricks – when the password entry pops up, press Emergency Call, enter a few random numbers and dial while at the same time use the lock button of your iPhone. You have to do it almost simultaneously which doesn't take a lot of skills and then you have the iPhone's contacts, call history, voice mail and photos (through the share contact option) at your disposal. Not the best news in the world if you have some sensitive information on your phone that you are not particularly eager to share with the community.
Our only hope is that Apple is already searching how to sort out the problem, although the rumour is that the trick works on the iOS 4.2 beta just the same.
source:
MacRumors
via
Engadget