iPhone 4 becomes the most popular camera on Flickr
10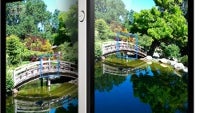 The iPhone 4 has just become the
most popular camera on Flickr
beating the Nikon D90 who long held the crown and made us wonder about all the possible reasons behind it. A look at Flickr's stats shows that its professional and semi-professional DSLRs that occupy the rankings as the Canon EOS 5D Mark II comes third, followed by the Canon EOS Digital Rebel XSi and the Canon EOS Rebel T1i. One thing is evident – the iPhone 4 has a far inferior camera than all of them.
But strangely even with its comparatively humble 5 megapixel snapper, it has managed to outpace the rest with a whopping
4844 average daily users
and over 9 million uploaded photos. The reason? The most obvious one is sharing – publishing a picture from the iPhone is a breeze as it only takes a couple of taps, while the rest of the cameras - despite their much better sensors – lack the opportunity to instantly post images to the web.
The second reason is of course availability as a phone is always around allowing for spontaneous shots, while you don't always have your camera around. Looking at the general picture, you'd notice that it's actually the iPhone 3G which has recorded the biggest total in terms of pictures taken among iDevices with over 35 million for its couple of years of existence. What do you personally use more - your phone or your camera?