iPhone 3G owner uses Find My iPhone to retrieve stolen handset, find thief
7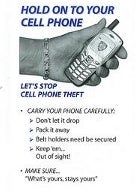 Less than 2 weeks after
Apple showed off
the new Find My iPhone app in the device's new 3.0 OS, Kevin Miller put it to good use to help him find his stolen iPhone 3G. Mr. Miller was in Chicago to attend Brickworld, a convention for adult Lego fans, when he left his handset sitting on a table where he had just enjoyed dinner. Despite returning to the table within minutes, it was too late-the phone was gone. Still, there was hope. After all, Miller did recently activate the Find My iPhone feature of MobileMe which displays the location of a specific iPhone on a map when activated. The next day, the victim and two of his friends used a MacBook Pro equipped with Sprint 3G to track down the stolen unit. The three kept refreshing the map on the computer until they locked onto a location. The thief answered a phone call to the handset but quickly hung up. He didn't respond to text messages. Finally, the Find My iPhone app placed the phone near a bus stop where Miller and his two friends started closing in.
A man at the bus stop called over the trio and returned the iPhone to the rightful owner, stating that he had worked at the place where it had been left at the table and that he had intended to return it. A reward of $30 was offered, but was declined and the two men shook hands and walked away. And while Mr. Miller was grateful for the app that helped him recover his handset, he did offer a suggestion that the service should be able to work with another iPhone as it was a fortunate break for him that he and his pals had a 3G enabled notebook computer that they used to track the stolen model.
While a complete erasure of data could have been done with Remote Wipe, another new MobileMe feature that came with the new 3.0 OS, Miller considered that a "nuclear option" because once wiped, the phone would not be able to use the location function. And while some have considered the story a fabrication by Apple to promote the new features, Miller denied it although he did say it was as good a story as any commercial.
source:
COMPUTERWORLD