iPad to receive front-facing camera
8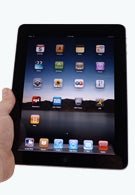 Someone close to Apple's affairs has leaked that
Apple's iPad
might receive a front-facing camera and support for FaceTime by the first quarter of 2011. They also hinted that they were trying for a holiday release this year.
Critics doubt the release will come so soon, as Apple tends to stick by a yearly update schedule, in which case the new iPad would arrive in April, 2011. But considering the
release of Android tablets
, perhaps Apple will make an exception in order to remain competitive.
Since Apple's announcement of the refreshed
iPod Touch
, users might be eagerly awaiting similar enhancements to the iPad. Steve Jobs has also announced that the iPad will receive hardware improvements to offer multitasking, file-sharing, and HDR photos. Combining these new features with FaceTime capability will make the iPad a more viable business device. With
corporations beginning to allow iPhones
as corporate email devices, the revised iPad could also gain a corporate following.
There's certainly no doubt that the iPad will get a front-facing camera eventually, it's just a logical progression, but time will tell if we can expect it this holiday season.
source:
Yahoo! News