iPad mini Retina supplies could be a problem at Christmas, admits Apple
15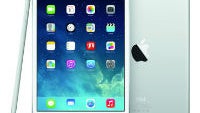 There have been constant rumors about the
supply
of the iPad mini 2 because there have been questions about the production of the new Retina display for the tablet. Now, after talking about Apple's
fiscal Q4
2013 earnings report and the possibility of Apple launching a new
product category
next year, CEO Tim Cook is admitting that iPad mini Retina supplies could be a problem this holiday season.
Cook always kept the focus on the new iPad Air during the earnings call, saying that "it's going to be an iPad Christmas" and called the Air "the best iPad we've ever done." But, any time the talk shifted to the new iPad mini, the news was much more troubled. Cook said that "it's not clear if we'll have enough" iPad minis available, and also said, "it's not clear that everyone who wants one will be able to find one" this Christmas season.
Cook didn't mention when he expected production to get back on track, nor did he specifically mention the Retina display as the reason for the supply issues.