iPad Air 2 vs Samsung Galaxy Tab S 10.5: in-depth specs comparison
30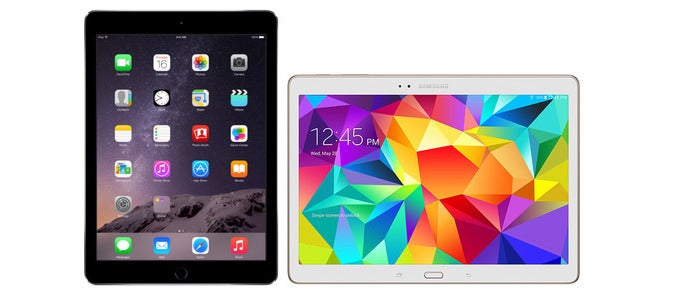 Today is a day of jubilation at camp Apple. As expected, the company presented a whole bunch of new products at its official event, among them being a brand new iPad model, the
iPad Air 2
. And, boy, is it a tablet worth being excited about! Compared to the previous model, it is thinner, lighter, faster, and better in dozens of ways. Is it better than what Apple's rival, Samsung, has to offer? Well, there's a broad spectrum of tablets in the latter's portfolio, and the
Samsung Galaxy Tab S 10.5
is shaping up as a worthy competitor to the new iPad model. Let's stack the two against each other and see how they compare.
Design
Making the iPad Air 2 as thin and light as possible has surely been among Apple's priorities. With a thickness of just 6.1 millimeters, it is not only slimmer than the previous model, but slimmer than any other tablet in existence. And with a weight of 437 grams, the new iPad ranks among the lightest tablets of this caliber. But the Samsung Galaxy Tab S 10.5 is not chubby either. In fact, it is just 6.6 millimeters thin and weighs 467 grams, making it only slightly thicker and heavier than the Air 2.
One of the key design differences between the iPad Air 2 and the Samsung Galaxy Tab S 10.5 is the choice of materials used in their construction. In typical Apple fashion, the new iPad model is a metal-made slate with a beautiful, anodized finish. It is available in silver, grey, and gold, the last color option being available for the first time on an iPad. In contrast, the Tab S 10.5 is built of plastic, with a metal-like trim around the edges, so it can't be expected to have the same premium feel as Apple's tablet. At least Samsung's slate gets the Galaxy S5's dimpled finish with soft, grippy feel.
As usual, the iPad Air has a circular "Home" key placed below its screen. What's new, however, is that it has a fingerprint scanner embedded in it – Apple's Touch ID. It works as the one on the iPhone, pretty much, used to unlock the phone, to authorize purchases, and to make Apple Pay payments. On the Samsung Galaxy Tab S 10.5 you also find a fingerprint scanner, although it is of the swipe variety and can be a bit trickier to use than the iPad's. The tablet's "Home" button is accompanied by two capacitive buttons, one for the "Back" function and another for bringing up the recent apps.
A perk the Samsung Galaxy Tab S 10.5 has to brag with is its infra-red blaster, found in its top edge. With its help, one can switch through their TV channels or control other home appliances that use an old-school IR remote.
Display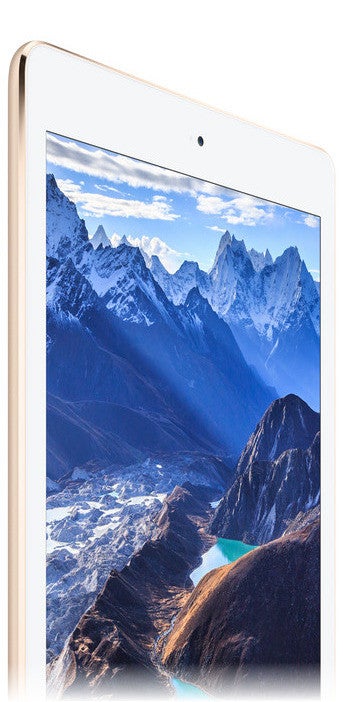 Like it or not, the iPad Air 2 packs an IPS LCD screen very similar to the one on its predecessor. It has a resolution of 1536 by 2048 pixels across a diagonal size of 9.7 inches for a pixel density figure of 264 PPI. But despite being technically similar to the one on last year's iPad model, the display is not a bad one at all. Plus, it has been upgraded in a number of ways – the panel is thinner, bringing graphics closer to your fingertips, and a an anti-reflective coating improves its visibility. The Samsung Galaxy Tab S 10.5 stands its ground with, you guessed it, a 10.5-inch Super AMOLED screen. It has a resolution of 2560 by 1600 pixels for a pixel density of 287 PPI. Therefore, both tablets should provide identical levels of details.
Now, in general, Super AMOLED screens are known for their pumped up colors, while IPS LCDs, especially the ones on products by Apple, tend to deliver better results in this category. The Super AMOLED screen on the Tab S 10.5, however, is a bit different. Having had the chance to measure its color reproduction, we can confirm that it hits the sweet spot with its accurate color hues (in Basic display mode, at least). Our intuition is telling us that the iPad's screen would be no less disappointing in this respect.
One more thing we have to point out is that the iPad's screen has an aspect ratio of 4:3. Proportions like these are highly suitable for watching photos and surfing the web, among other activities. The 16:9 display on the Galaxy Tab S 10.5, on the other hand, should ideal for watching movies.
Interface
Among the many factors setting the iPad Air 2 and the Samsung Galaxy Tab S 10.5 apart is the software that runs on them. Apple will launch the new iPad with iOS 8.1 out of the box, while Samsung's slate is an Android device, currently running Android 4.4.2 with a custom layer of TouchWiz on top. What does all that mean? Well, long story short, Apple's mobile platform is simple to use, but still rich in features. By "simple" we mean that you won't see anything that's superfluous or redundant. Turning your iPad on takes you to a straightforward home screen populated with icons for all apps. A streamlined pull-down panel hold your notifications and widgets, while the pull-up Control Center lets you quickly adjust some of the tablet's settings. The Tab S 10.5, on the other hand, is a bit more complex, giving you the option to place widgets and app shortcuts on your home screens. Sharing the slate with others is no hassle thanks to its Multi User mode, and Multi Window allows you to use apps simultaneously, side by side. As far as apps go, Apple's App Store is by far the best place to find great iPad apps – over 675 thousand of them are available for download. Android, on the other hand, has a broader selection of free software, even though app quality can't quite match that if software made for iOS. Ultimately, picking a favorite depends on your preferences and what you'll be using your slate for.
Processor and memory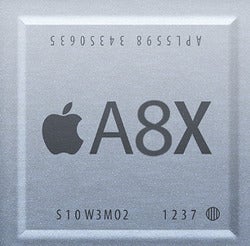 A8X – this is the name of Apple's newest custom-designed 64-bit SoC solution, and it ticks inside the iPad Air 2, alongside an unknown amount (presumably a gig) of RAM. Although technical details about it are scarce at the time, we're told that CPU performance has increased by 40%, while the GPU is up to 2.5 times faster compared to the Apple A7 chip. Meanwhile, on the Tab S 10.5's specs sheet we find listed an octa-core Exynos 5420 SoC. The chip features a quad-core 1.9GHz Cortex-A15 CPU for those serious task alongside a power-efficient, quad-core 1.3GHz Cortex-A7 CPU that kicks in when not as much processing power is needed. 3GB of RAM are on board.
The data we're presented with is insufficient for us to say which tablet is truly faster, but if we had to make a bet, our money would be on the iPad. Apple's recent slates have excelled in terms of performance, and we doubt that the newest model would be an exception. The Galaxy Tab S 10.5, on the other hand, did experience occasional slowdowns as we were testing it. It is not a slow tablet by any means, and its hardware is potent enough to handle any Android app or game, but simply put, one should not expect its performance to be flawless.
Storage options for the iPad Air 2 start with a 16GB model, which many may find rather insufficient. You may pick a more spacious model, but these come at a hefty price – a $100 or $200 extra is what you have to pay for a 64- or 128-gigabyte model. Upgrading the storage on the Samsung Galaxy Tab S 10.5 is done by installing a microSD card. That's the cheaper solution as a brand-name 64-gig card costs under 40 bucks.
Camera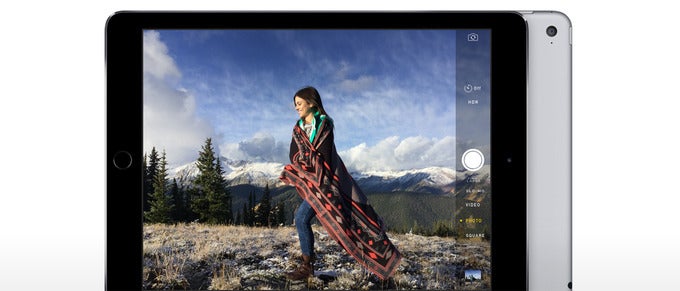 The good news is that both tablets will get the job done when you need to take a photo and no better camera is around. They feature 8MP cameras with auto-focus, HDR support, burst mode, and 1080p video recording. On the iPad we find a few more extra goodies, including high-res panoramas of up to 43 megapixels and 120fps slow-motion videos. The Tab S 10.5, on the other hand, stands out with an LED flash, while the iPad lacks one. Of course, both slates come with front-facing cameras as well, which makes them suitable for video chats.
Battery life
Apple's tablets are known for their great, all-day battery life. The iPad Air 2 follows the pack with its promised 10 hours of use – a figure provided by Apple. Your mileage may vary, however, depending on what you're using your tablet for, whether you're connected to a data network, and how bright its screen is glowing. Similar results should be expected from the Samsung Galaxy Tab S 10.5, which promises 9 hours of usage. When we ran it through our custom battery benchmark, which simulates real-world use, we got 8 hours and 38 minutes of battery life on a single charge, which wasn't bad at all.
Expectations
An iPad is an iPad – it is a name that people know, trust, and buy with little hesitation. That's the status Apple's tablet has achieved, which is pretty much a guarantee that the Apple iPad Air 2 would be a hit, like the previous models. And yes, even at $500 for a base model, the new iPad is still worth its money, from the looks of it. In exchange you get a tablet with outstanding design, powerful hardware, and access to a rich selection of tablet-optimized applications.
Knowing what it has to offer, we can confidently say that the Samsung Galaxy Tab S 10.5 is not to be underestimated. Like the iPad Air 2, it is slim, lightweight, and equipped with a beautiful, spacious display. However, at $500 apiece it does not have any pricing advantage over the newest iPad. This could make it a tougher sell as most folks willing to spend half a grand on a tablet would probably consider an iPad as their primary option.
Nevertheless, we don't think that any of these tablets would leave you disappointed should you choose to buy either of them. Which one would you pick? Let us know in the comments!