iOS 9 is announced – the most intelligent, most refined iOS release ever
99+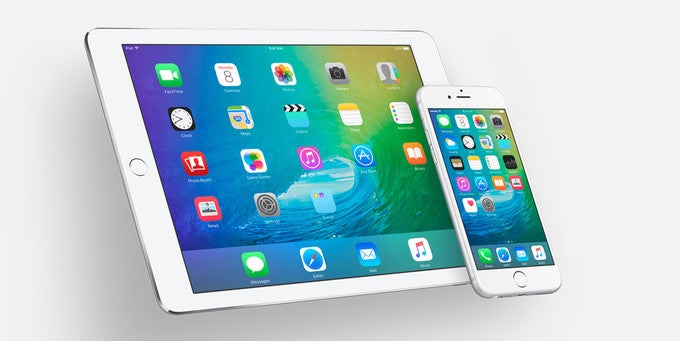 Apple's WWDC 2015 conference is running at full steam, and major announcements are already starting to pour in. The most exciting among them, of course, is the official unveiling of iOS 9 – the
"most advanced"
mobile operating system, in Apple's words. And, boy, there's a lot to be excited about! The ninth major release of iOS is built to be a refined, proactive, and intelligent successor to last year's iOS 8. To achieve this goal, Apple has solidified many of the fundamental pillars in its operating system, all while introducing numerous improvements to stock applications and the iOS multitasking experience. Let's get into details, shall we?
Siri grows smarter and prettier

Now, we can't comment on the intelligent features in iOS without mentioning Siri, which serves over 1 billion queries per week. With iOS 9, Siri is growing 40% faster and capable of returning 40% more accurate results. Furthermore, Siri will be capable of handling more kinds of requests than ever. Apple's virtual assistant will be able to search for photos and videos taken on a specific day and/or at a given location. She'll be able to set advanced reminders, too, such as ones that are triggered when the user arrives at a specific location. Siri's getting a fresh, new, more colorful user interface, too!
iOS gets proactive
Of course, voice commands are one thing, and intelligently anticipating the user's needs is a whole different story. Well, we're happy to report that iOS 9 is doing serious progress in this aspect. The software takes a number of variables, such as time and date, your location, and the type of connections available, to predict, let's say, what app you might want to launch. If you plug in your headphones, for example, iOS 9 will recommend a recent playlist that you've listened to. If you use a certain app regularly, at specific times of the day, the OS will ask you if you want to open it at that specific time. When you have an appointment at a certain location coming up, iOS will take into account traffic conditions to calculate when you need to leave to get there on time. And if you're getting a call from a number that isn't in your address book, your email messages will be searched in effort to link the number to a certain contact.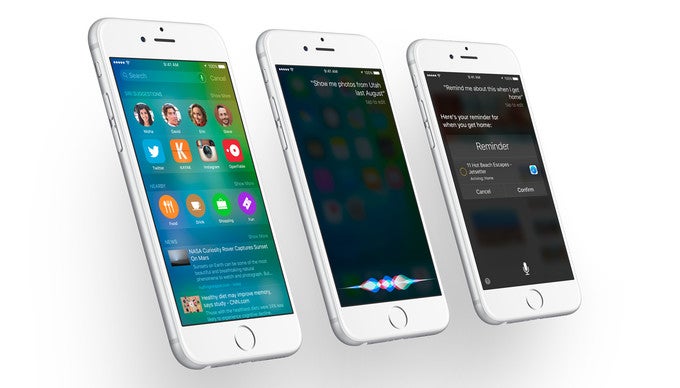 Spotlight, on a whole new level
Spotlight search has been treated to a deserving overhaul as well. In iOS 9, where it is still accessible with a pull-down gesture, it has become a full-fledged screen where helpful shortcuts and recommendations are intelligently organized. Recent and frequently needed contacts appear there, along with apps you've last used. Also, searching for places of interest nearby is a one-click process with the new Spotlight Search. And at the bottom of the screen appear headlines on topics you could be interested in. At the same time, it is easier to search and get relevant results for sports schedules, Netflix movies, and even information inside apps.
Now, all this searching occurring on millions of iPhones might raise privacy concerns. People could be curious to know what happens to their private data and whether their search history can be accessed or purchased by third parties. Well, Apple is reassuring us that iOS users are in control of their data. Queries are not associated with the user's Apple ID and aren't being shared with third parties.
Multitasking – get more done
As rumored, iOS 9 brings a number of improvements to the way the platform handles work with multiple apps. The most significant among them is called Split View, with is the option to run apps side-by-side instead of switching back and forth between them, for a true multitasking experience. Both apps are active simultaneously and can even have items dragged and dropped back and forth. Then there's the new picture in picture mode, thanks to which you'll be able to enjoy videos playing on top of other apps. And with the new Slide Over feature, users will be able to launch a second app without closing the app they're already in.
These new multitasking features won't be available on all iOS devices, however. Split View will only be found on the iPad Air 2, presumably due to the hardware restrictions of the older iPad models. Slide Over and the picture in picture functionality will be made available on the iPad Air, iPad Air 2, iPad mini 2, and iPad mini 3. The iPhone isn't being mentioned anywhere at this time.
Battery life and performance improvements
This wouldn't be a proper update if it doesn't improve a thing or two under the hood of the platform. Sure enough, iOS 9 apps work together with Metal, which provides the lowest-overhead access to the GPU for smooth, responsive graphics. The results are faster scrolling, smoother animation, and better performance across iOS. At the same time, battery consumption in iOS has been optimized so much that the software update is promised to add up to another hour of usage to your device. And if you're ever caught away from a charger and with a battery dying, you'll be able to take advantage of a new Low Power mode. The latter promises to squeeze up to three extra hours of battery life on one charge, according to Apple.
Apple Maps – now with public transportation
Many of the pre-loaded apps found in iOS 9 have been enhanced, delivering a richer experience.
Apple Maps
, for example, is now better than ever with its new Transit view. It includes directions for public transportation like buses, trains, subways, and ferries. At launch, Transit will be available in Baltimore, Berlin, Chicago, London, Mexico City, New York, Philadelphia, San Francisco, Toronto, and Washington, DC. In addition, transit information will be available in 300 cities throughout China.
Notes – an upgrade worth noting
One app that's been treated to a much-needed update is
Notes
. The once-humble software is now a proper, powerful note-taking application with support for text formatting, easy-to-generate to-do checklists, and the ability to draw sketches inside your note. On top of that, you may access the camera to add visual notes. Content from Maps, Safari, and other apps can be imported directly into Notes as well.
Apple News – a new way to stay in the know
While some iOS 9 apps build on top of software found in iOS 8, other apps are totally new to the platform. One of the latter is
Apple's News app
, which is ideal for keeping track of the latest headlines. It presents you with a curated selection of articles picked to match your interests. Stories are not only informative, but also pleasant to look at, with photos and animations beautifully laid out. Again, Apple pointed out that your news interests are kept private, not shared with medias or other third parties. News will be available in the United States, Australia, and the United Kingdom.
iOS 9 release date
So, when is iOS 9 coming? If you're a developer, you'll be able to have a taste of the latest iOS release later today by downloading a beta version on your iOS device. And in July, a public beta of iOS 9 will be rolled out, allowing non-developers to test-drive Apple's latest software. The final iOS 9 build will come later this year to any device capable of running iOS 8. This includes the iPhone 4S and newer models, as well as the iPad 2 and its successors.