Apple Maps will also get some much needed love - public transport directions and other goodies coming with iOS 9
9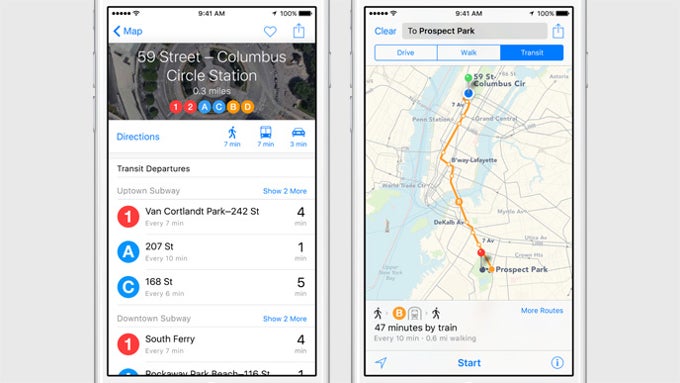 The iOS 9 update, which Apple just announced at its WWDC event, will bring about some new features for the Maps app, among other changes. Firstly, Apple did not miss the oppurtunity to brag about numbers – according to Cupertinians' statistic, Maps is currently being used 5 billion times per week, bringing its usage to 3.5 times higher than "the next most popular mappy map service".
That may be so, but the navigational service is still lacking a pretty important feature, which, thankfully, will be coming with the next iOS update. We are talking about the new Transit option, of course!
The new feature will allow Apple Maps to show detailed routes and station information to help users navigate public transportation. Not only that, but it will attempt to bring super-accurate distance information so that it can calculate travel time as accurately as possible. For example, train stations will not be treated as a point on the map – their actual size will be taken into account, and the distance you need to travel to actually reach your train when you are on-site will be included in the calculations, making sure that you don't miss to board.
Maps will also have a deeper integration with Siri, allowing you to ask the assistant to instantly start up a navigation via Transit. Additionally, the app will now allow you to find nearby restaurants, shops, and other businesses, and you will be able to spot the ones that support Apple Pay thanks to a specially placed indicative icon.