iOS 6 also expected to have Facebook integration
28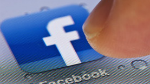 The rumors about iOS 6 have been starting to swell, and it's only going to get more hectic as we get closer to Apple's World Wide Developers Conference, which is set to kick off in just 10 days. iOS 6 is obviously expected to be the big topic of discussion at WWDC, and so we've already heard that
Apple Maps
will be part of the update, as well as an overhaul to the
Camera and Photo apps
. It also looks like iOS will be getting more social. Facebook integration with iOS had been rumored to be part of iOS 4, but looks like it may be a reality soon.
The new speculation is that in addition to the Twitter integration that we saw as part of iOS 5, iOS 6 will see similar integration with Facebook. This was one of the more pointed statements made by
Tim Cook at the D10 conference
, where he was talking about social ventures. Cook admitted that Apple's attempt at social with Ping was essentially a failure, and said that perhaps Apple didn't need to be a social company, but that it's products should be social. At that point, he mentioned the Twitter integration, and also gave a tip of the hat to Facebook, saying it is a "great company", that it and Apple have a "solid relationship", and we should all "stay tuned". That's about as pointed a comment as Cook gave during the interview.
This sort of integration would be big for both iOS and Facebook. Facebook may not have a lot of room to grow as far as user base, as Twitter did after its iOS integration, but it could certainly mean more data being pushed through Facebook. It's unclear exactly how the integration would work beyond sharing options, but it certainly puts Apple in position to be able to offer a more robust Contacts app, much like Windows Phone's People app. If that happens, it would leave Android in a bit of a lurch, since even though there is a People app in ICS which promises social data, Google unfortunately left it up to 3rd parties to hook in rather than working with services, so the functionality really isn't there yet.