iOS 13 Dark Mode: all the details
0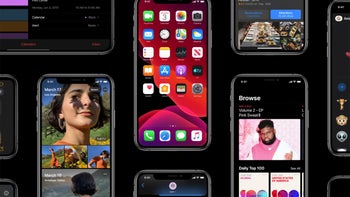 iOS 13 introduces a host of new features, but probably the most anticipated one is Dark Mode, which turns backgrounds dark and makes for an experience that is much easier on the eyes and that helps with battery life on the iPhones that use an OLED screen (the
iPhone X
, XS and XS Max).
So... how does Dark Mode work and will it work across all of the apps?
First, Dark Mode will be available in iOS 13 via a button in Control Center so you can easily turn it on and off. You can also select it to turn on automatically at a certain time of the day (for example, after sunset or after a certain hour), so you don't need to manually switch it on and off every time. Convenient!
But the best news is that Dark Mode is something that Apple has built deep into the system and something that will be supported not only on the apps made by Apple, but it can also be easily incorporated by developers into third-party apps.
At launch, it seems that most Apple-made apps will support the feature. The only app that Apple never showed running Dark Mode is... actually, the one that will need it the most: the Safari browser. Of course, getting Dark Mode on a browser with so many different websites is a big challenge, but we have seen browsers on Android (the Samsung browser, for instance) offer this feature, so it is possible. Right now, we are just not sure whether Safari will get a Dark Mode at all and we have reached out to Apple for a clarification.
And here is a list of apps that Apple has shown and that will surely support the new Dark Mode:
Wallpapers
Mail
Apple Maps
Messages
Calendar
Apple Music
Notes
Reminders
Photos
Settings
Health
Keyboard
and others
Availability
Dark Mode will be an integral part of the iOS 13 release. If you are a registered Apple Developer, you can download and try the iOS 13 beta starting today, on June 3rd, while a public beta will be available by the end of the month. The time when iOS 13 and the new Dark Mode will come to everyone is this fall, probably around the middle of September and it will be available on the
iPhone 6s
and later (yes, the
iPhone SE
will get it too!).