iOS 10 enhances 3D Touch's functionality with more options, pop-up widgets
7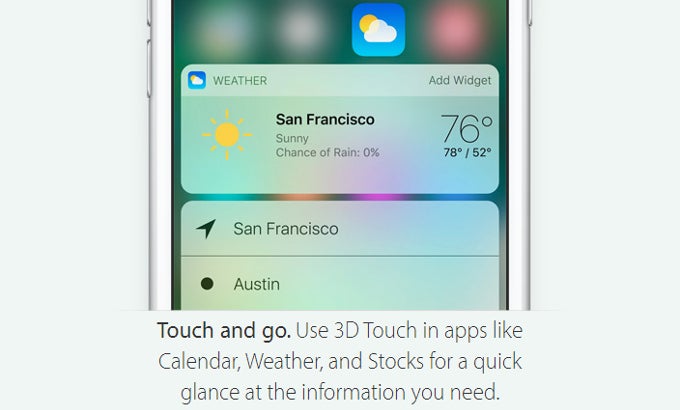 Apple's pressure-sensitive 3D Touch technology is still somewhat new and feels fresh, but often redundant, due to the fact that not many 3rd party apps have embraced it. And even for those that have, 3D Touch is sometimes useful to use from the homescreen to bring out that pop-out menu for a specific icon, but when inside the actual app, its use is
still pretty limited
. Mostly, it's used for "peek-and-pop" actions, where pressing slightly on a picture would make it come up in full size, while pressing in hard pops the picture in full view (otherwise achieved by just tapping on the photo).
However, the company is surely not about to give up in this entirely new method of human-smartphone interaction. iOS 10 will bring about some extra features, geared towards enhancing 3D Touch's usability, especially from the homescreen.
So, we already know that Apple has started taking widgets more seriously. We will now have
an entire lockscreen page
, dedicated to widgets of any type and size, fully customizable by the user. However, the demo also showed us that pressing on an app's icon on the home screen will also be capable of popping this app's widget, as can be seen on the picture of the Weather app above. It's also said that, where widgets are not applicable, we will be able to see photos or even videos in these pop-ups, gradually expanding the whole "peek in" philosophy behind the pressure controls.
Expanded chat and email options in the pop-up menus were also mentioned, and we are quite curious to press on every icon as soon as we get to play with a preview of iOS 10. We also wonder if Apple plans to put some hints in apps or on app icons that there is a 3D Touch gesture available. At the moment, it's a bit tough to follow which apps support the feature and which – not.