iLuv ReF headphones hands-on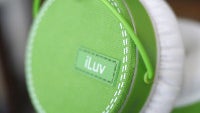 You seriously need to be a hardcore Hi-Fi aficionado to even tinker the thought of buying a pair of headphones over the $200 mark. Not everyone has that kind of disposable income to throw around, so if you're still looking for something that can tangle with some of them in the audio quality department, but is relatively affordable at the same time, the
iLuv ReF
might be an option for you.
With its bright color scheme, a lime green one to be exact with our unit, the iLuv ReF headphones definitely tries to sport an urban appeal with its design, especially with its
canvas exterior with contrast stitching
. However, it kind of lacks the modern appeal of its higher end competitors. It's not terrible per se, but these
over-the-ear styled headphones
still employ some nifty materials with its construction. Specifically, the ear cups are lined with Korean protein leather, which makes them super snug and soft when worn over the ear. However, the stiff nature of the headband makes it a
little constricting to wear
over a period of time. Lastly, the foldable aspect of the iLuv ReF makes it more travel friendly.
Armed with
40mm titanium speaker drivers
, we have to admit that we're rather surprised by its audio quality. It's
rich and clear
to the point that we're able to perfectly distinguish low and mid tones with no issues whatsoever, but when it's placed at the loudest volume setting, highs are muddy. Nevertheless, the overall quality is quite pleasing. It's not at the same level as those $200 and up headphones, but heck, it definitely can give some of them a run for their money.
Sure, its bright color scheme might seem a tiny bit campy, but don't let it fool you one bit, seeing that audio quality is more than pleasing with this. At
$99.99
a pop, it's not bad of an option if you want something more than those ear bud type headphones. Needless to say, it's not as comprehensive as those behemoth over-the-ear ones, but for the price and all, it doesn't need to be.
source:
iLuv
More headphones to check out