House of Marley Harambe On-Ear Headphones hands-on
3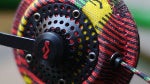 Broadening its lineup,
House of Marley
has unleashed it latest round of on-ear headphones that pay homage to the earth friendly initiatives and quality audio that the brand is known for. In its attempt to deepen its offerings, the
House of Marley Harambe On-Ear Headphones
aims to fill in the segment that has the flare for something
compact and lightweight
– while still delivering the same lovable audio we've experienced on their other headphones.
Unlike the many other on-ear headphones that they offer, the House of Marley Harambe is more in line to old school style headphones of yesterday that were heavily used during the 80s and 90s. However, they've managed to splash on some character to this particular form factor with its
psychedelic colors and eco-friendly materials
. Although we like how the earphones are lined with leather cushions, the aluminum band of the Harambe is too flexible for our taste – resulting in a
very loose feel
when we put them on.
Of course, audio quality is superb nonetheless thanks to the
30mm dynamic drivers
powering the Harambe, which pump out those pleasant bass tones that our ears crave. At the loudest volume setting, though, things begin to sound too deafening and irritating. In fact, it buckles under the pressure and produces some audible crackling. Sure, we appreciate the comfy feel of the headphones, but since the aluminum framing is flexible, the noise isolation properties of the headphones are compromised.
Indeed,
$59.99
for the House of Marley Harambe might seem steep, but it's still more affordable than some of the full figured offerings in their lineup. It's stylish no doubt, while still producing some great audio quality at the mid-volume setting, but you might want to think about spending a little bit more to pick up some of their higher-end models.
House of Marley Headphones