Phiaton Bridge MS 500 headphones hands-on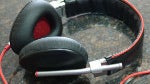 For a good while there, the
V-Moda Crossfade M-100
has been our favorite pair of premium headphones, seeing that it boasted one impeccable construction that's complemented by its equally stellar audio quality. Well folks, there's a new kid in town that's also trying to get in with the premium crowd. We've checked out some of
Phiaton's headphones in the past
, but this is the first time we're getting our hands on an over-the-ear styled unit, so we're naturally curious how it'll stack up against its highly esteemed rivals.
Right away, there's a sense of premium attached to the
Phiaton Bridge MS 500 headphones
, as it boasts some to-notch materials with its construction. Specifically, it's frame is mostly comprised out of
machined aluminum
, which not only provides a modern appeal to its design, but also helps to add strength and sturdiness to its construction. Complementing things, too, is the
premium genuine leather material
that covers the headband and ear cuffs – adding a supple feel when it's worn. And boy is this thing super comfy to wear as well, seeing that it never feels too constricting when it's worn over a period of time. Lastly, it incorporates a
collapsible design
that cuts its size in half, which makes it more compact and travel friendly.
Thanks in part to its
40mm drivers
and "
multi-tune acoustic design
," the Phiaton Bridge headphones puts its money where it matters most – the audio experience. Comparing it to V-Moda's Crossfade M-100, it's almost indistinguishable trying to differentiate the audio quality of the two. In fact, Phiaton's offering manages to deliver nearly the same
crisp results
as its rival. Never sounding too straining or pitchy, we're super pleased by the audible high and mid tones it's able to churn out – while pleasant bass tones help to accentuate its overall robustness.
Now, there are only two qualms that we have with the Phiaton Bridge headphones. First, the connection on the headphones is a 2.5mm one. It's wonderful that Phiaton is nice enough to include a second cable if you happen to lose the first one, but it would've been better if they employed a straight up 3.5mm-to-3.5mm cable – as opposed to this 2.5mm-to-3.5mm one. Secondly, the headphone connection is on the fatter side, which might cause trouble for some phones that have their audio jacks recessed. Overall, if you're looking for the same level of audio quality put out by V-Moda's offering, but want to save some money in the process, the Phiaton Bridge MS 500 is a great alternative that doesn't skimp out. At
$300
a pop, we're sure hardcore Hi-Fi aficionados will appreciate its worth.