V-Moda Crossfade M-100 Headphones hands-on
7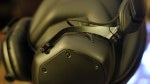 Unless you've been hiding under a rock for the last year or so, you might notice something peculiar when looking at some of the folks riding on the subway. We're talking about over-the-ear headphones here, you know, the kind that makes a fashion statement of sort when worn. Across the land, Beats' portfolio is well-known, as the marketing push behind it is simply unmatched at the moment, however, if you're looking to scope out the cream of the crop in the headphones world, you ought to set your sights on the
V-Moda Crossfade M-100
Over-Ear Noise-Isolating Headphones.
Let's talk about style! Frankly, there's plenty of it seen throughout the design of the V-Moda Crossfade M-100. On one hand, it doesn't try to be as futuristic looking as some of its highly-esteemed rivals, but it's graceful in the way that it
pays homage to some classical styles
. Above all, its
construction is top-notch
and exceeds the quality of its competition! So much so that it feels almost
indestructible
with its steel frame – not to mention, it has a personalization aspect with its interchangeable aircraft grade metal shields. When it comes to comfort, too, it excels with its padded Steelflex headband and supple BLISS memory foam cushions that are surrounding the ear cups.
Adding some much-wanted worth to its overall package, the V-Moda Crossfade M-100 features
passive noise isolation
when it's worn – meaning, it blocks out a small amount of environmental noise. Truly setting itself apart, this pair is extremely
well-rounded with its audio quality
. So much so that it delivers a consistent quality to all tones! Although it's not as head pounding with its bass output when compared to those from Beats' line, it's actually effective enough to not come off as over-done. At the same time, mids and highs don't drown out when it's pushed to the loudest volume setting, and instead, they're
crisp
enough to be enjoyed by the ear. Heck, even using the V-Moda Crossfade M-100 for phone calls is a pleasure as well – especially considering that its passive noise isolation properties does well to keep our attention on voices.
When it comes down to it, there's no arguing that many people are probably going to be shocked by the
$300 price tag
attached to these puppies. Certainly, it's at a price level that some would perceive to be excessive, but taking into account its quality construction and superb audio output, it's something that will appease hardened folks in the music industry, but also us everyday people who yearn for something that will undeniably make a statement.
source:
V-Moda
More headphones to check out
Recommended Stories