Jabra Vox headphones hands-on
2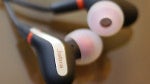 Traveling is always a pain whenever you're trying to do it with as little baggage as possible. It seems nearly impossible to do at times, but we tend to make certain compromises in what we bring along to keep the load somewhat lightweight. Therefore, instead of deciding on lugging around your prized over-the-ear headphones, you'll probably settle on some in-ear ones instead. Makes perfect sense, right?
Well, if you crave
premium
, you certainly will appreciate what the
Jabra Vox
has to bring to the tablet – err, your ears really. These premium headphones pack some interesting features and elements that would make people take notice, especially with its
aggressive looking styling
with its earbuds. Menacing looking to say the least, these headphones don't try in the least way to be discrete in the ear, as they really get down and stay firmly in place. Naturally, the "
tangle-free
" cable allows for a very minimal hassle experience unfurling from our pockets, but despite its best efforts, it still can be a
painstaking process to uncoil.

Showing off its premium elements, we appreciate the small things that the Jabra Vox has to offer – like the "
SnagIt
" Magnets that allow for effortless unwinding on the go and the Y-shaped structure that's the converging point of the headphones. Beyond that, Jabra's exclusive
Sound App
for Android and iOS sprinkles some additional enhancements to the headphone's quality, such as bringing along
Dolby Digital Plus support
.
When it comes to purely listening to some sweet tunes on a wide range of devices, we can hear how it delivers a sweet contrasting balance with its quality. On one hand, there's barely any distortion testing out its might at the loudest volume setting. Meanwhile, the amount of bass that it pumps out complements its overall, which will undoubtedly keep people head bobbing to the rhythm of the beat. Despite its reasonable quality, its pricing of
$100
makes it a tough buy, but if money isn't a concern, then maybe you can get it a shot.
More in-ear headphones to check out