iFixit tears down the Galaxy Alpha – lots of glue and hard repairs inside
13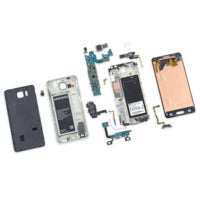 Tech site iFixit has posted a teardown of the
Samsung Galaxy Alpha
. For those unaware – the iFixit crew takes things apart, meticulously documenting every step, in order to help anyone who's into self-repairs get a better understanding of how to open up their device.
The Galaxy Alpha is the first of a new line of handsets from Samsung – it employs
premium materials and a sleek design
, and is arguably aimed towards challenging the iPhone in the look & feel department.
Anyway, on to the internals. Upon opening the back panel, iFixit is quick to note that there is no trace of water-proofing – whereas the Galaxy S5 is quick to reveal a rubber ring, embedded in its rear cover, the Alpha makes no such attempts.
With the back panel off, the battery can be easily removed or replaced – something that is very familiar to any Galaxy user. However, if one wishes to gain further access to the device's internals – it gets hard.
In order to be able to gain access to the motherboard, one must first remove the display panel – something that is done with a lot of heat, time, patience, and careful prying, else one risks to damage the device. On the interesting side of things – the display panel measures at the razor-thin 1.4 mm – less than half the width iPhone 6's screen.
Once inside the device, most components are modular and can be easily replaced. Unfortunately, there is a plethora of flimsy cables and an uncomfortable amount of steps one must take to remove most of them. You can check out all the details on iFixit's site (source below).
The techies gave the Alpha a "fixability" score of 5/10, quoting the need to remove the display in order to gain access to the phone's internals a serious disadvantage.
source:
iFixit
via
Gizmodo