Huawei Nova 4 goes official with in-display 25MP camera, 48MP main rear shooter
16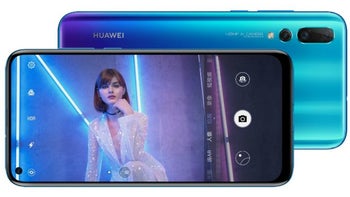 The world's
second smartphone with in-display camera technology is here
… and it's both a beaut and a beast. Unfortunately, by "here", we mean China, as the Huawei Nova 4 saw daylight earlier today in the same huge market where Samsung's road-opening
Galaxy A8s
was unveiled last week, with no word on international availability just yet.

Coincidentally (or not), the Nova 4 shares the same screen size with the Galaxy A8s in addition to an extremely similar "hole punch" camera identically approaching the old bezel-killing problem. The 6.4-inch display of the Huawei Nova 4 sports a respectable FHD+ pixel count (2310 x 1080), with a small but noticeable chin in tow that yields a total height measurement of 157 mm.

As you can imagine, the dimensions of the Nova 4 and Galaxy A8s are incredibly similar, but impressively enough, Huawei's new guy packs a significantly larger 3,750 mAh battery while weighing 172 grams. In contrast, Samsung's hole-in-display pioneer tips the scales at 173 grams with a 3,400 mAh cell under its hood.
Of course, the Huawei Nova 4 is not a flagship device through and through, pairing last year's (still-powerful) Kirin 970 processor with up to a whopping 8GB RAM. That makes it plenty fast to take on the Snapdragon 710-based Galaxy A8s, but certainly not as impressive as the Kirin 980-powered
Huawei Mate 20
and
Mate 20 Pro
.

The tiny hole drilled into the beautiful screen of the Nova 4 houses an impressive-sounding 25MP selfie camera with f/2.0 aperture and a full slate of AI enhancements, while the rear-facing shooters are obviously even more remarkable, combining 48, 16, and 2MP lenses. That's right, the main rear cam is a 48-megapixel powerhouse with f/1.8 aperture, although if you can't afford that particular model, Huawei also has one with a triple lens arrangement composed of 20, 16, and 2MP sensors.
The top-tier configuration will
reportedly
go for the rough equivalent of $490 in China, with around $450 buying you the slightly humbler variant. Both Huawei Nova 4 versions run Android 9.0 Pie on the software side of things, also sporting "classic" rear-mounted fingerprint scanners.

Coated in red, blue, white, and black, the Nova 4 stands out with a shiny 3D glass body as well that seems to reflect light in some very original ways that make the phone change its color depending on the angle you're looking at it.
It almost goes without saying an official US release is out of the question, but Europe availability info should follow soon enough. It will also be interesting to see what this design means for Huawei's next-gen
P30 flagship family
. Some sort of resemblance seems pretty much guaranteed.