Is Google already working on a new tablet? 'Rammus' benchmark seems to suggest so
4
Google's
first tablet in three years
has barely been
unveiled a few weeks ago
,
not even going on sale in the US
yet, but a mysterious new device with Intel Inside might already be in the works.

That just so happens to be the same processor found under the hood of a $799 Pixel Slate configuration with 8GB RAM and 64GB internal storage space, although this pre-launch "Rammus" testing unit only appears to feature 4 gigs of random-access memory.

What's infinitely weirder is the unreleased prototype runs Android 7.1.1 Nougat, which is now two full generations behind the times. It's hard to explain why Google would be assessing the performance of a new slate with such an outdated OS version onboard, but then again, it obviously doesn't make a lot of sense to be preparing any sort of a Pixel Slate sequel or spin-off already.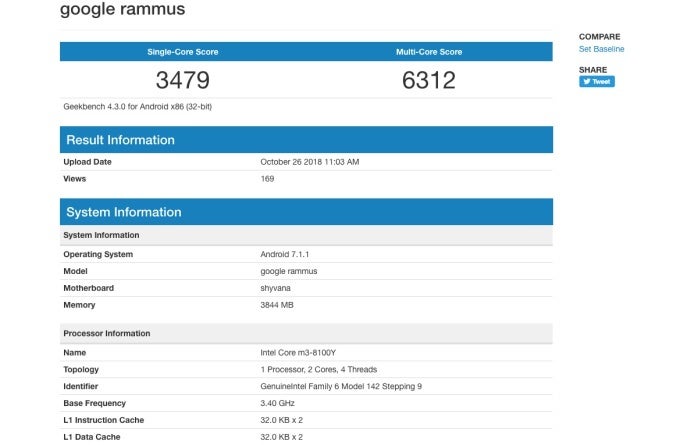 There's always the possibility this is actually an entirely different product, like maybe a new Pixelbook variant of some sort or a smart speaker on steroids. The Chrome OS-powered, Android app-running Pixelbook laptop/tablet hybrid still only comes in pricey Core i5 and i7 configurations, so that's not a totally far-fetched theory. But
smart speakers
and
smart displays
probably don't need Intel Core m3 chips.
Like the
Google "Bonito"
purportedly benchmarked a little while ago, the "Rammus" could be a shelved or canceled device, which would explain the old software platform build listed here. Unfortunately, all we have right now are suppositions and possibilities.
Recommended Stories