Google might also be working on an 'oversized' Pixel 3 Lite - Pixel 3 XL Lite, anyone?
2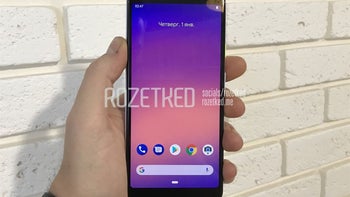 We don't even know if this Pixel 3 Lite is legit, let alone a weird "Pixel 3 XL Lite"
Way before the Pixel 3 leaking madness truly began with those live prototypes circulating around the Russian blogosphere, one man claimed to know how this year's "pure Google" phones would look, relying on sources inside manufacturing plants for
renders that unsurprisingly proved almost 100 percent accurate
.
This doesn't have a name or an estimated release date yet, being confusingly described as an "oversized Pixel 3 Lite." Wait, is Google ready to admit the notch was a bad idea? That sounds highly unlikely, but
according to this "unconfirmed source"
, we're looking at a device with "almost the same size" as the
Pixel 3 XL
.
While it's unclear how far this thing's similarity with the
Pixel 3 Lite
might go, we can't help but dream of a "Pixel 3 XL Lite" with mid-range specifications, a fittingly reasonable price, symmetrical screen bezels, and a headphone jack.
Would something like that immediately propel Google among
the world's top ten smartphone vendors
? Probably not, but it certainly sounds like a better idea than the overpriced Pixel 3 XL with that oversized notch.

Unfortunately, there's something about this story that screams canceled prototype or even the figment of a hardcore Google fan's imagination. But maybe we're just being paranoid.