'Excellent' Google Pixel 3 XL with 60-day warranty costs a measly $415 in killer eBay deal
2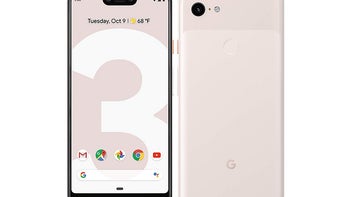 While the
Pixel 3a
and
3a XL
are
undeniably great phones
that provide a lot of bang for your buck (even when they're not
deeply discounted with upfront carrier activation
), Google's "regular"
Pixel 3
and
3 XL
have significantly sharper screens, a faster processor, and a more premium build quality going for them.
As such, most Android purists would probably buy one of the older and higher-end variants of the latest handsets "made by Google" if they were ever given a choice. Of course, the Pixel 3a and 3a XL are typically far more affordable, starting at $399 and $479 respectively, but the
Pixel 3
and
especially Pixel 3 XL
have been on sale at pretty sweet prices a number of times in the recent past.
The latest killer deal comes from highly trusted eBay seller BuySpry, seeing "manufacturer refurbished" Pixel 3 XL units in a "not pink" paint job marked down to an insanely cheap $414.99 a pop. Although the comparison is not entirely fair, a brand-new unlocked 64GB phone with a 6.3-inch notched OLED panel, Snapdragon 845 SoC, and 3,430mAh battery normally costs $899 at Google and authorized third-party retailers nationwide.
But while BuySpry doesn't sell the Google Pixel 3 XL unused and untouched with a standard 1-year manufacturer's warranty included, the top-rated merchant does throw in its own 60-day warranty with devices said to be in "excellent" cosmetic and working condition. Some "light scuffs or marks from handling" are to be expected, but otherwise, this $415 stock Android-powered phone is as good as a new unit fetching a whopping 900 bucks, at least according to BuySpry.
Fully compatible with both Verizon and GSM networks like AT&T and T-Mobile, the Pixel 3 XL on sale here will apparently not work on Sprint, Boost, or Virgin Mobile. That's pretty much the only downside we notice about this incredible bargain at first glance. Well, that and the love-or-hate (not) pink color.