This incredibly tough Garmin smartwatch is on sale at an exceptionally low price right now
We may earn a commission if you make a purchase from the links on this page.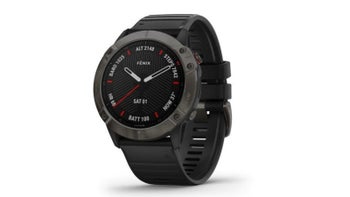 Given the sheer size and incredible diversity of the company's product portfolio, it's definitely not easy to choose the
best Garmin watch
to fit your individual needs, preferences, and budget right now.
If you're looking for a top
Apple Watch Ultra
alternative, for instance, you might be torn between the
Fenix 7
and Epix (Gen 2), both of which clearly have everything it takes to survive in the wilderness for an exceptionally long time and keep up with the most adventurous lifestyles... at a fitting price.
If you can't afford to spend as much as $850 or $900 for a brand-new smartwatch with a rugged design, you may want to consider an older model at a huge discount. Like a Garmin Fenix 6X Sapphire fetching a whopping 380 bucks less than usual for a price cut of 51 percent.
Yes, this absolute tank of an intelligent timepiece used to cost $749.99 back in the day with an extra-robust but also surprisingly stylish body combining such super-advanced materials as sapphire crystal (for the lens), Diamond-like Carbon coated steel (for the bezel), and both fiber-reinforced polymer and good old fashioned metal as far as the jumbo-sized 51mm case is concerned.
With all of that in mind, as well as a large 1.4-inch screen surrounded by handy buttons, you'll probably be delighted to know that the Fenix 6X Sapphire is not
that
thick or heavy while unsurprisingly promising to withstand... whatever you throw at it.
We're talking extreme temperatures, humidity, dust, sand, vibration, shocks of all types, drops, and of course, water immersion, all of which should be handled by this puppy with grace while showing you notifications, alerts, and other information from your connected phone, following your every move with built-in GPS, Glonass, and Galileo support, and last but not least, closely monitoring your vitals, activity, fitness, and health.
As the name suggests, the Garmin Fenix 6X Sapphire is extremely similar to the Fenix 6 Pro that
scored a 50 percent Amazon discount
of its own just last week, and if that deal is anything to go by, this all-time best special offer is also likely to go away pretty quickly.
Before pulling the trigger, you should know that the hot new deal is technically offered by a third-party Amazon seller, but Beach Camera is not like many such merchants, enjoying a pretty much flawless reputation built over a period of 35 years. In the last 12 months alone, this retailer has amassed an excellent 93 percent positive rating score based on feedback from more than 3500 buyers, so it really does look like you have nothing to worry about on that front.