Report: 2018 Apple iPhone models will use eSIM chip; U.S. carriers are concerned
37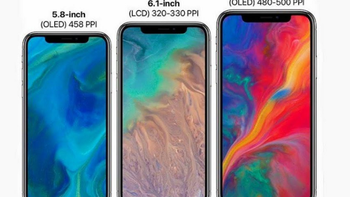 U.S. carriers like Verizon, AT&T, T-Mobile and Sprint are concerned that a recent report from Dow Jones is true. The word is that the 2018 Apple iPhone models will replace the tradition SIM card and SIM tray for an embedded eSIM chip. If this does occur, iPhone users will have a lot of flexibility when it comes to cellular connectivity. Unlike a SIM card, which is obtained from the user's wireless provider and must be inserted in a phone for it to connect to that provider's network, an eSIM is programmed OTA.

While a SIM card locks an iPhone user into one carrier, the eSIM can be changed at the whim of the handset's owner. If a carrier has poor coverage in a certain area, or another wireless operator has a lower price, a change can be made quickly and easily. Apple already allows this on the iPad with its Apple SIM card. The ability to change carriers at the spur of the moment is what has the four major U.S. carriers nervous.
Craig-Hallum analyst Anthony Stoss told clients yesterday that based on his "checks," Apple might have agreed to a deal with ST Microelectronics for eSIM chips that would be placed on the iPhone's motherboard. The company, which already provides Apple with components for Face ID, and an eSIM chip for the series 3 Apple Watch, would take in $1 for each eSIM chip it sells to the tech giant for the iPhone. It should be noted that despite the use of the eSIM for the Apple Watch, consumers do have to have a carrier selected before purchasing the timepiece.
Apple, in selling these "unlocked" eSIM supporting iPhone models, is trying to loosen the grip that the carriers have with consumers, and tighten the grip it has with iPhone owners. Obviously, carriers would try to restrict users of these models from switching providers constantly. This could be done by demanding that the balance owed by subscribers on units financed through the carrier, be paid immediately once a customer switches to another carrier. That is what the carriers do now to keep you locked in for 24 months, so why should we expect anything different?
It could be up to Apple to offer longer term financing or other sweetheart deals for iPhone models that have an eSIM chip inside. The 2018 lineup is expected to be unveiled in September, so if this report is accurate, Apple has only a few weeks left to figure out a plan.
Recommended Stories