Best iPad Cyber Monday deals 2022: our expectations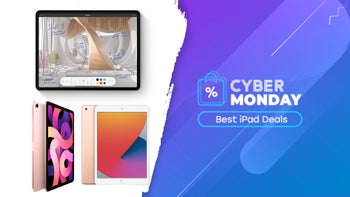 One of the best times to snatch yourself a brand new iPad, apart from Black Friday, is Cyber Monday. Last year we saw
Apple
's tablets get a variety of discounts. The newer models, like the 2021 iPad, saw less impressive price cuts that were below the $100 mark. Older models, however, went for much lower then their original retail pricing.
We suspect that Cyber Monday 2022 could paint a similar picture when it comes to iPad discounts. That being said, last year's models, including the iPad mini 6, will already be an year older so there is some chance we would see them go for even less this year.
Whichever one you choose, though, Apple's tablets are expensive, so it is good to prepare for the big shopping event early on. We have created a list of our expectations for the best iPad deals we expect to see when 2022 Cyber Monday comes along, to help you out and get the offer that suits you the most. Read on to find out more.
Jump to:
Cyber Monday iPad deals: Apple iPad Pro 2021
Last year's Cyber Monday did not really offer much when it came to hot iPad Pro (2021) deals. The "best" ones that popped up were at Amazon, where the 11-inch model went for $50 less and the 12.9-inch one saw a discount of $100.
Now, for Cyber Monday 2022 we could see those price cuts go up to $100 and $150 respectively, but not much more than that. The is still some room for surprises, however, as you can never know for certain what great deals these big shopping events will deliver, so we could see something more significant here.
Cyber Monday iPad deals: Apple iPad Air 2020 and iPad Air 2022
The 2020 version of the iPad Air, much like the aforementioned iPad Pro (2021) models, also didn't get much love when it came to discounts. There weren't many offers to begin with, with the best option being to get the iPad Air (2020) for a discounted instalment program with Verizon through Best Buy. The whole deal amounted to a 20% price drop from the original retail price.
Things should be different this year, though, as Apple refreshed the iPad Air back in March, 2022. With the new model now out, we expect to see much more appealing deals on the 2020 model of the iPad Air.
As for the 2022 version of the iPad Air itself, it would be best to not get your hopes up too much. Given that it is a model from this year, it is highly unlikely it will get decent price cuts, if any at all.
Cyber Monday iPad deals: Apple iPad 10.2"
The entry-level regular iPad got a refresh last year so unsurprisingly it didn't the best discounts during Cyber Monday. The best you could do is trade in an older iPad and get the price reduced that way.
Like with the iPad Pro, by the time Cyber Monday 2022 gets here the iPad 10.2-inch (2021) will already be an year older, so we expect more and better offers to pop up during the big shopping event.
Cyber Monday iPad deals: Apple iPad mini 6
The latest addition to the iPad family—the iPad mini 6—is one of the best compact tablets on the market. Last year there were basically little to no deals on Apple's latest mini model, however, we should see at least somewhere around a $50 to $100 price cuts during Cyber Monday 2022.
Cyber Monday Apple iPad deals: iPad Pro 2020, iPad Pro 2018, iPad mini 2019
Older Apple iPads are still completely viable and will likely stay so for at least a couple of more years. Some models from 2019 and 2020 went for $200 less and some even saw $400 discounts. We expect Cyber Monday 2022 to offer some similar price drops, so keep your eyes peeled for older Apple tablets if you don't mind missing out on some new features.