Brand apps are the best way to reach the fast growing category of mobile shoppers
2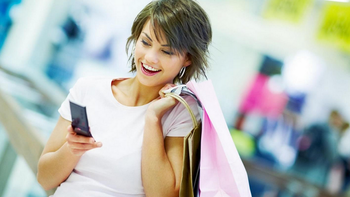 These days, many major companies use mobile apps to reach smartphone carrying consumers. Brand apps can help a company by accumulating useful data about a consumer such as his/her browsing history, and which products this person buys. Obtaining data like this allows the company to customize online coupons for the customers who have installed its app. But if the app is buggy, or doesn't offer discounts or deals, consumers will delete it from their mobile device in the blink of an eye. One smartphone user, talking about brand apps and how fast users are to delete them, said that, "This is some crazy game where one strike and you're out."
App designer WillowTree surveyed smartphone users and found that 50% of them found less than half of the brand apps they installed to be useful. 22% of them deleted over half of the brand apps they downloaded. The same survey revealed what consumers want from these apps; 60% want exclusive access to sales, loyalty programs, entry to special events, limited edition products and more.
To be a success, these apps must provide a reason for consumers to do business with a company over and over again. For example, the Regal Cinemas app offers a loyalty program for repeat customers, allows users to purchase movie tickets directly from the app, sends out notifications about new movies, and offers contests and tickets to free movie screenings based on users' past purchases. The Regal Cinemas app has over 9 million users.
Panera Bread is another company that has a very successful brand app. It has been downloaded five million times and 1.5 million people use the app each month to place orders, tally loyalty rewards, and keep track on a delivery. Panera expects to ring up $250 million in business through its mobile app during 2018. Pharmacy chain Walgreen's also has content designed to keep users coming back. Features include daily pill reminders, discount coupons, notifications when a refill is due, the ability to chat with a pharmacist, and rewards points for those who do activities including track walking, cycling, weight management, and more. 50 million downloads of the app have been made, and the app has fiver million monthly active users.
Brand apps are an important tool that companies can use to drive consumers to them. But not only does the app have to provide enough discounts or special promotions to get consumers to visit often, the layout of the app must look good. Developing a brand app requires a serious financial investment, especially because mobile shoppers are the fastest growing category in retail.

"If you're a brand and you don't have an app strategy or you aren't investing in your app development, then its going to be really hard for you to engage and monetize the fastest growing population, which are mobile shoppers."-Jon Hudson, vice president of customer solutions and innovation, Criteo