Best Samsung Galaxy S20 FE cases
1
We may earn a commission if you make a purchase from the links on this page.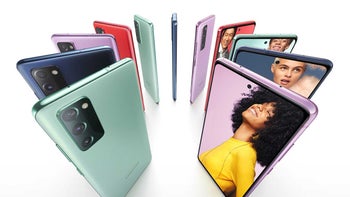 Just like the Galaxy S21 FE, the
Galaxy S20 FE
had a lot of expectations to live up to. Unlike it's successor, however, the S20 Fan Edition managed to deliver on the hype that had built around its release.
The Galaxy S20 FE came equipped with a decent mid-range chip inside, one of those beautiful screens Samsung is famous for, and an admirable set of three cameras, all that for just $599. Needless to say, it proved a worthy challenger to other competitors in the same price-bracket.
ALSO Read:
Samsung Galaxy S20 FE (Fan Edition) review, the price champion
Samsung Galaxy S20 FE vs Galaxy S20: What are the differences?
Samsung Galaxy S20 FE full specifications
Unfortunately though,
Samsung
did not include a case in the S20 FE's box. By this point, if you own this phone, you already have a case around it. But in case you are looking for a visual refresh, or the old one is simply too worn out, we have made an extensive list of the best Samsung Galaxy S20 FE 5G cases you can get your hands on.
Samsung Galaxy S20 FE specs at a glance:
6.5" FHD+ Super AMOLED (407 PPI)
6GB RAM/128GB internal storage (US version)
12MP wide + 12MP ultrawide + 8MP telephoto (3x optical zoom)
32MP selfie camera
4,500mAh battery
$699
Do Samsung Galaxy S20 cases fit the S20 FE?
Before we get to the actual list, there's a thing that needs clearing up. Many of you might be wondering if Samsung Galaxy S20 cases fit the S20 FE. Sadly, the answer to this question is "no". Although these two devices share many similarities, the key feature when talking about cases - the size - is different. The Galaxy S20 FE has a 6.5-inch display and is larger in size than the Galaxy S20, so you need a case that is specifically designed for the S20 FE. But don't let that ruin your day, here are the cases:
Jump to section:
Official Samsung Galaxy S20 FE case prices
There's nothing wrong with going with an official Galaxy S20 FE case, appart for the fact that these are a bit pricey. If this doesn't bother you, then you have basically three design options. There's a Silicon Cover model, a Clear Standing case, and the iconic S-View Flip Cover. Let's take a deeper look.
Samsung Galaxy S20 FE Silicon Cover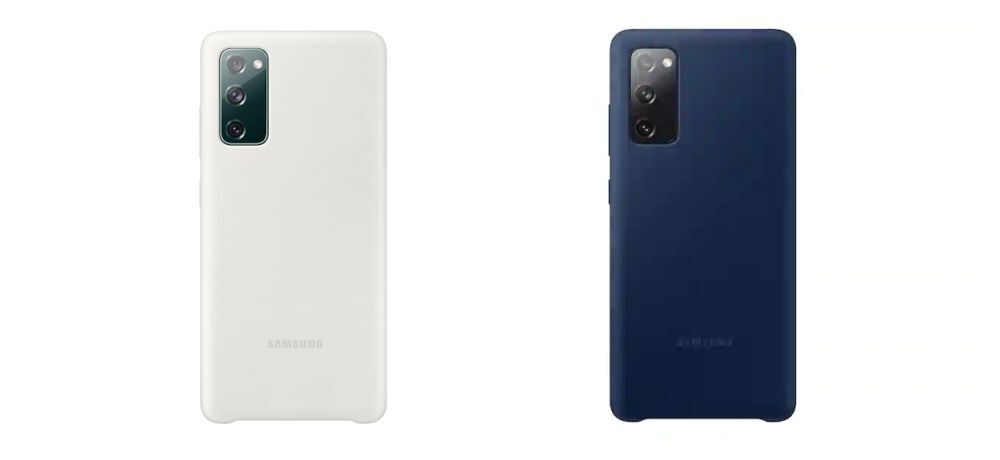 This official Samsung Galaxy S20 FE case offers a slick and stylish design and rubberized feel. It's relatively slim and will help you with grip, minimizing the risk of accidental drops. It's available in two colors - Navy and White, and will set you back $29.99.
Samsung Galaxy S20 FE Clear Standing Cover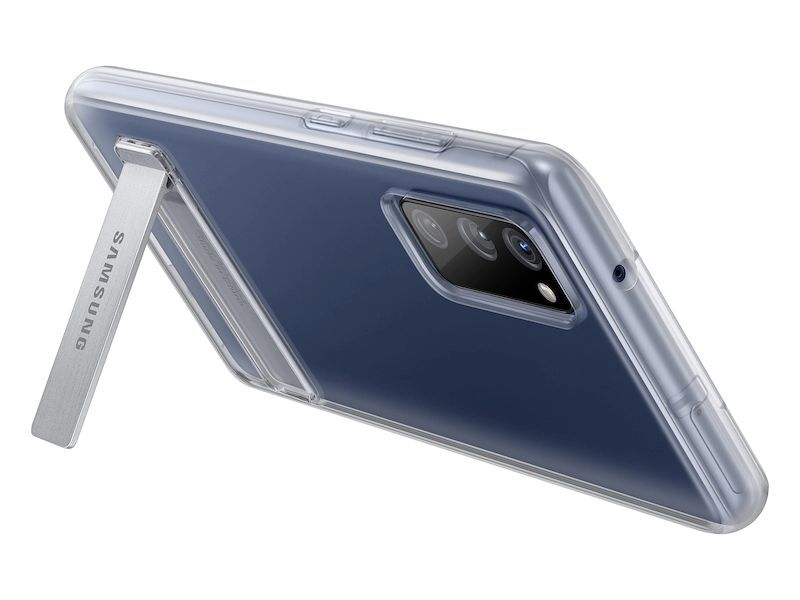 The Clear Standing Cover is another take on the TPU polymer case but with the added comfort of a kick stand. It offers reliable protection and transparent rear. It is very slim and won't add extra bulk to your Galaxy S20 FE. The price stays $29.99, so you can choose between the Silicon Cover and this one freely.
Official Samsung S-View Flip Cover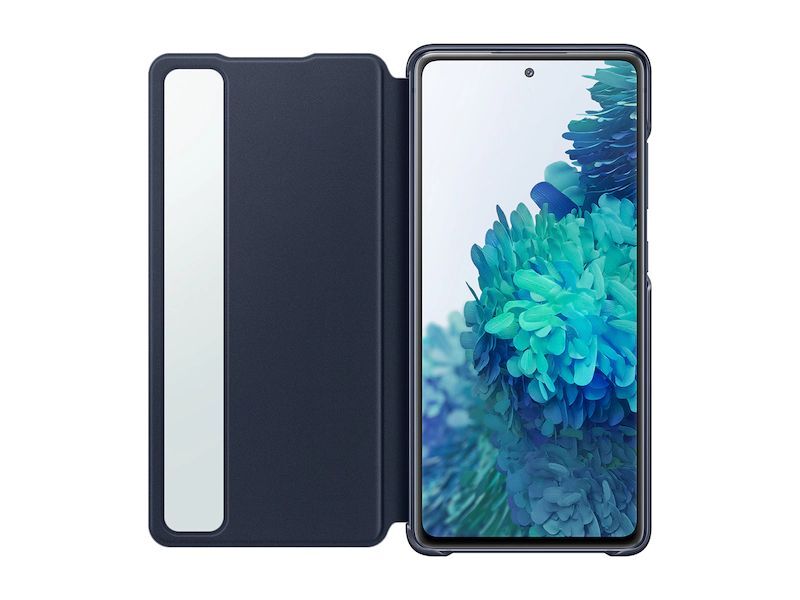 The S-View Flip Cover offers full protection from both the front and the back of the phone. There's a narrow transparent screen on the front that will show you critical information such as time, date, battery level, all of that is shown when the case is shut. You can also pick up calls without opening the case and there's an antimicrobial coating to help you battle those germs. The price is a bit steep at $49.99 but hey, you're getting style and protection at the same time.
Best Samsung Galaxy S20 FE clear cases
OtterBox Prefix Series Case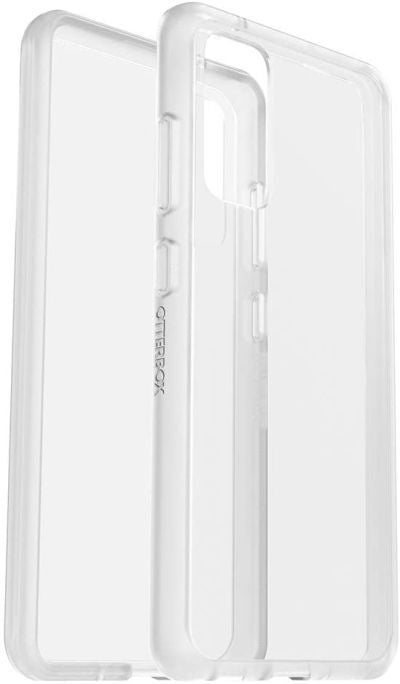 If you're a fan of clear cases, this OtterBox model is for you. The Prefix Samsung Galaxy S20 FE case is very slim and stylish, while featuring a soft grip, one piece design, and a raised bumper that helps protect the touchscreen. This case is also pretty strong, protecting your phone from drops and bumps. It's crystal clear, too, giving your Galaxy S20 FE a chance to shine.
Spigen Ultra Hybrid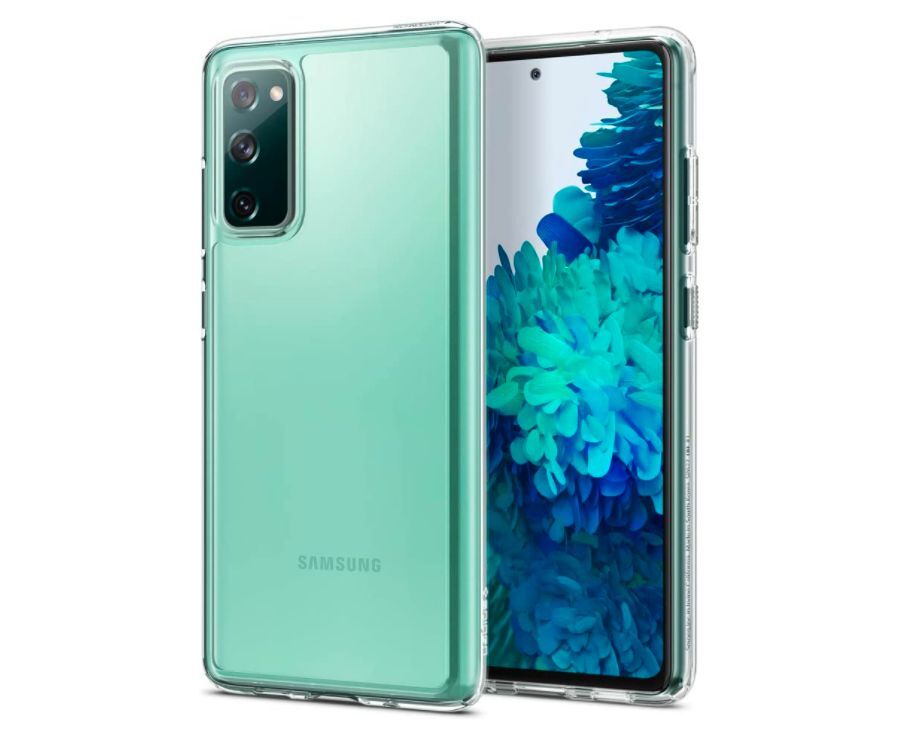 Another option from Spigen that gives you the style and design of a clear case but with the added protection of a hard armored one. The Spigen Ultra Hybrid Galaxy S20 FE case is made with hybrid technology that uses a TPU bumper with a durable PC back. There are raised lips to protect the screen and the cames, nice tactile buttons, and large cable cutouts. The transparent design will let Galaxy S20 FE's original color shine without compromising protection.
Tech21 - Evo Check Case for Samsung Galaxy S20 FE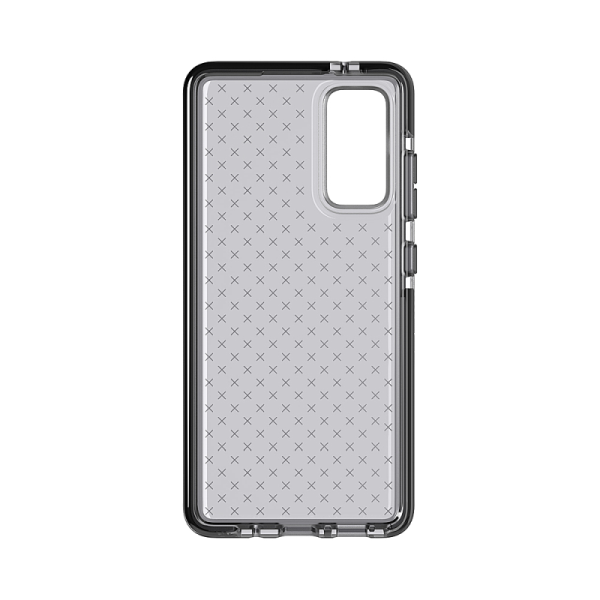 This Tech21 Samsung Galaxy S20 FE case features protection from drops of up to 8 feet (2.4 meters), a stylish pattern and colorful, interchangeable buttons, as well as microbe-reducing materials to keep it hygienically clean and safe. It is also ultra-slim and has a scratch-resistant layer on its back. It's technically not completely clear but features an interesting pattern which adds a pinch of personality.
SaharaCase - Hard Shell Series Case for Samsung Galaxy S20 FE - Clear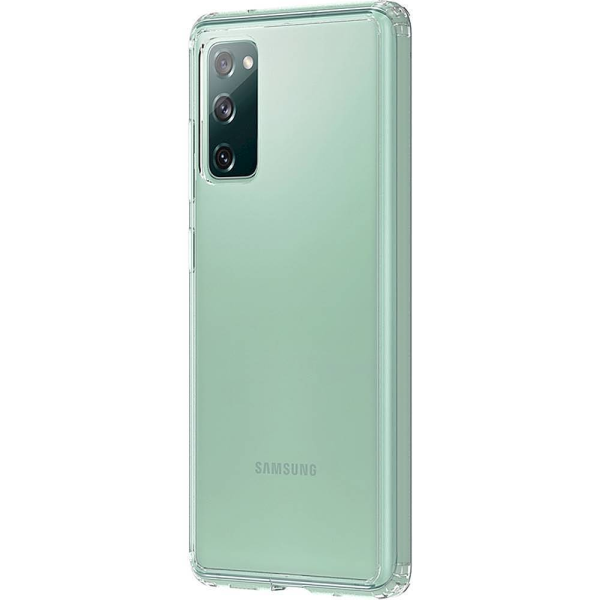 Another clear case that offers great protection. This SaharaCase Hard Shell Series case features raised bezels around the camera and screen to safeguard the lens and display from scratches. The included camera hood lets you snap clear photos, while the ergonomic closed button design lets you access volume rockers and the power button comfortably. It's also thin, lightweight, while at the same time safeguards your phone - specially designed shock-proof corners absorb impacts from falls.
Best Samsung Galaxy S20 FE rugged cases
OtterBox Symmetry Series Case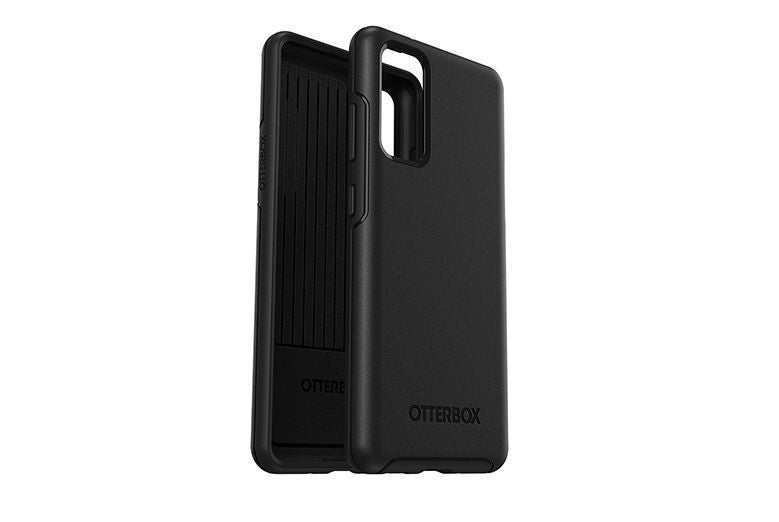 Here's another premium Samsung Galaxy S20 FE case from OtterBox. This one is also antimicrobial treated with silver-based antimicrobial additive that is integrated into the case. It helps inhibit microbial growth and defends the case exterior against many common bacteria. The Symmetry Series cases are DROP+ rated, surviving 3X as many drops as military standard MIL-STD-810G 516.6.
OtterBox Defender Series Case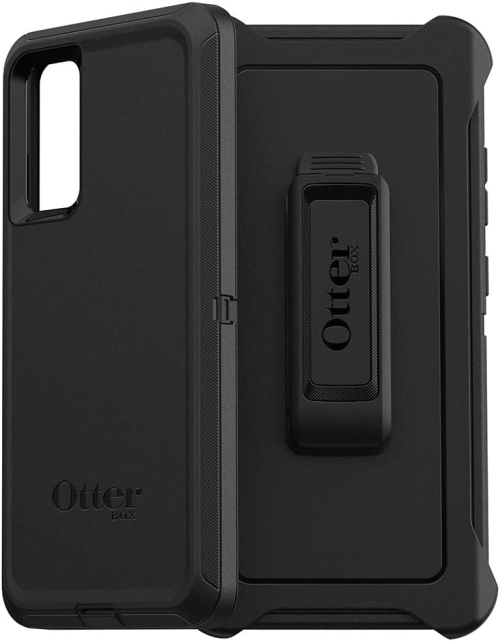 The OtterBox Defender Galaxy S20 FE case is another take at the rugged design, and a really solid one too. It offers a multi-layer defense: solid inner shell and soft outer cover, along with port covers to keep out dust and debris. There's a kick-stand that's also a belt-clip holster and of course, this case features the signature OtterBox design. It's simply one of the best Galaxy S20 FE rugged cases out there.
Caseology Parallax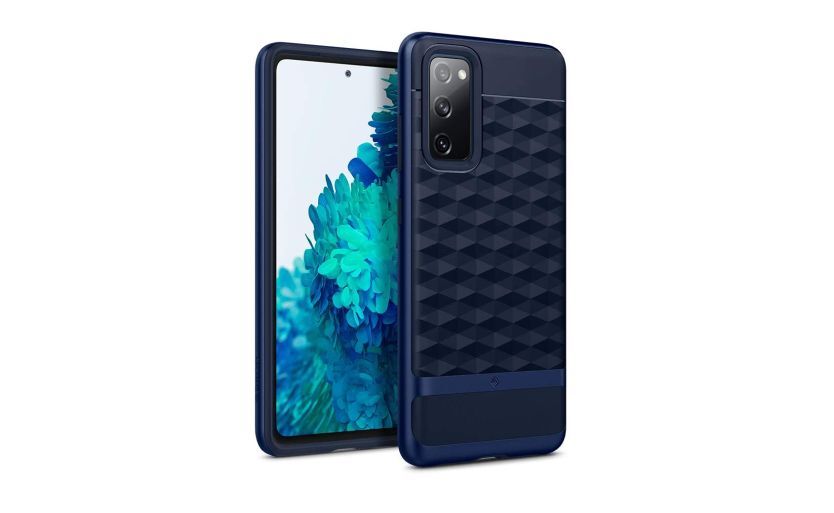 Moving to third-party cases, this Parallax Samsung Galaxy S20 FE case from Caseology is a real beauty. The Parallax cases are known for their stylish and sleek design with a 3D geometry pattern that provides enhanced ergonomics and secure grip. Dual layered bumpers provides military grade protection that is drop-test certified, while keeping the case wireless charging friendly. And then there's the price - it will put a smile on your face.
Spigen Rugged Armor Case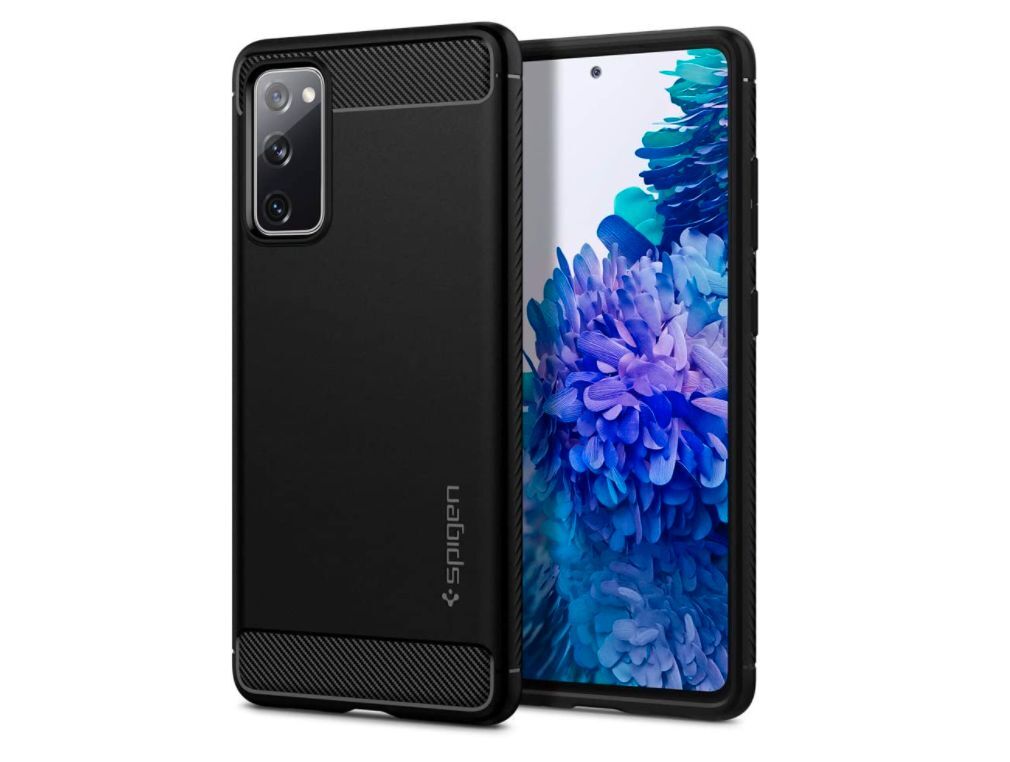 If you want something even more affordable but still offering adequate protection, you can't go wrong with Spigen. The Rugged Armor Galaxy S20 FE Case sports an interior spider-web pattern, air cushion technology for shock absorption, and raised lip to protect the screen. It's also slim and stylish with carbon-fibre elements.
Best Samsung Galaxy S20 FE leather cases
SaharaCase - Folio Wallet Case for Samsung Galaxy S20 FE - Brown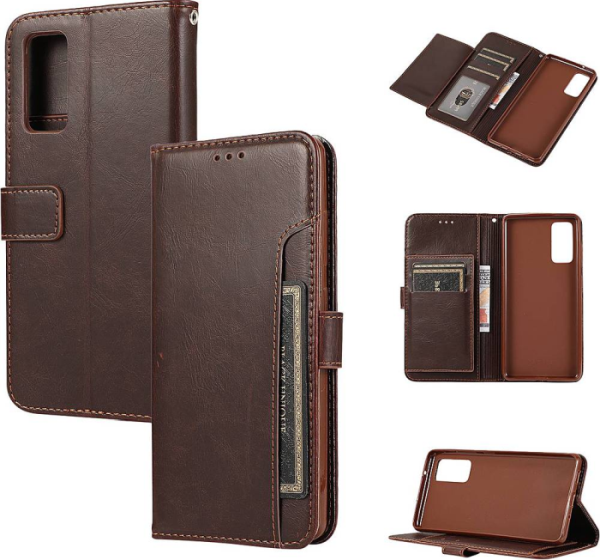 If you like wallet-type cases but don't fancy the official Samsung models, there's another option. The SaharaCase leather folio wallet offers protection and style at the same time. It features a vegan faux leather construction that provides a luxury look and minimizes wear and tear, a card slot with a secure flap that holds up to five cards for easy access, and an integrated kickstand to help with those Netflix marathons.
anccer Newborn Series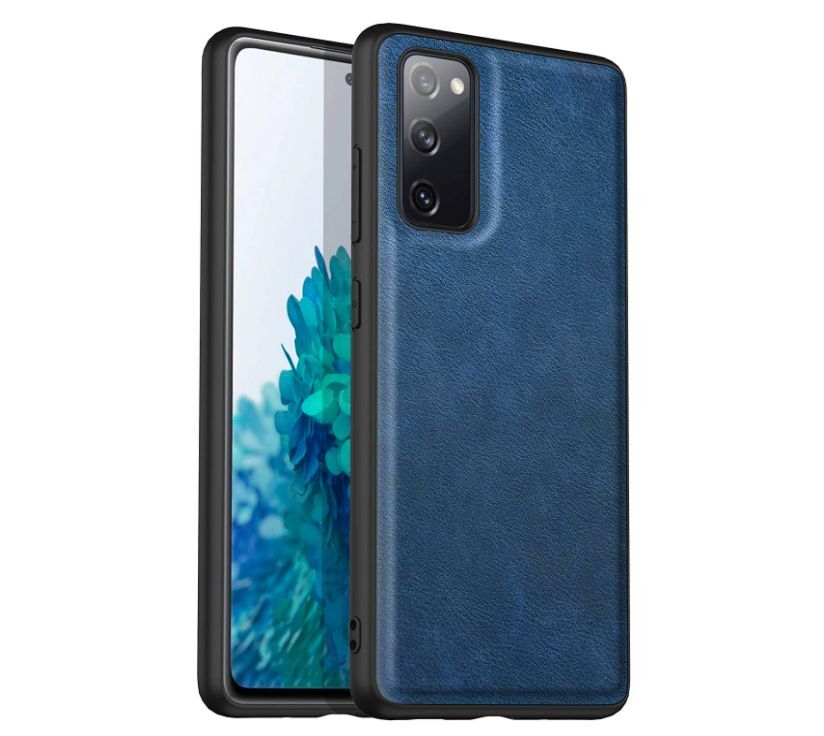 The anccer Newborn Series Galaxy S20 FE case is an extremely stylish leather case that comes in red and blue color variants. It features a layered design that helps you protect the phone while keeping things pretty. There's a hard PC layer and a shock-absorbing layer, all covered by high-grade leather. A 1mm high lip around the screen ensures it will survive potential drops, while the leather on the back is nice on the touch and provides a secure grip.