PhoneArena Awards: best phones, tablets, and smartwatches of 2018
99+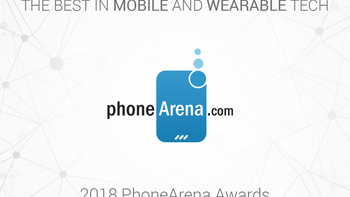 And just like that, another year is almost behind us. It was a year that went under the
"play it safe"
motto, with most companies across the smartphone industry simply following trends instead of trying to wow us with overly radical products.
But boring 2018 wasn't.
In fact, the past 12 months were marked by a number of notable events and advancements: we got our first glimpse at 5G; we saw the emergence of the gaming phone niche; we got a tease of a life beyond the notch; foldable smartphones got a step closer to becoming a mainstream reality; and the number of cameras you can now have on a phone got to 5!
No less importantly, we added a whopping 258 new phones to our database – many of which we got to review or at least play with. Which were the best among them? Scroll down to find out!
Best value-for-money phone of 2018: OnePlus 6T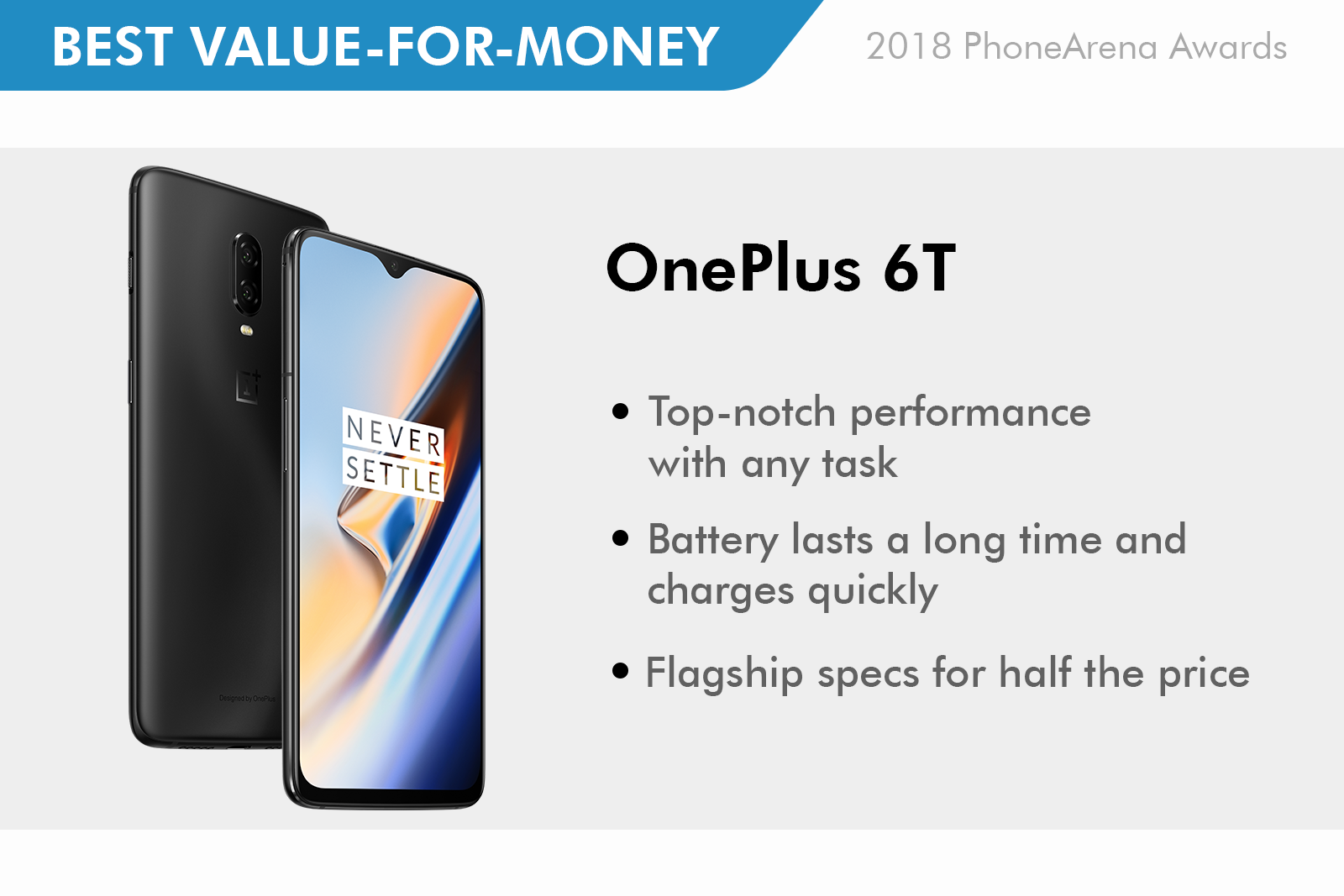 Before we get to the most exciting category on the list, we need to talk about the OnePlus 6T and its importance in the field. Right now, the top-of-the-line phones dominating the market command prices of $1000 or more, and we don't expect high-ends to get any cheaper next year. Meanwhile, even the most popular budget phones can't wow us with much – aside from their low cost, of course. The OnePlus 6T is the best phone to fill the gap between the two categories. It delivers a flagship experience at a fraction of the cost, and that with very few compromises made in the process. Long story short, if you want a great phone at a great price, the OnePlus 6T is your best option.
Runner-up: Pocophone F1
"Poco-who?"
you might be asking yourself right now, and that's okay. After all, it has only been a few months since Chinese company Xiaomi announced its Pocophone sub-brand. But the launch of the Pocophone F1 caused quite a splash – in some markets, at least, as the phone was only made available in parts of Europe and Asia. Priced at the equivalent of ~$350, it was unmatched by any competitor at this price point in terms of processing performance and camera quality. Battery life is also top notch with this one. The catch? Well, you don't get a fancy glass back with the F1. There's no water resistance, NFC, or wireless charging either. But one can't complain given the price. We only hope that whatever Pocophone launches next year makes it to the US.
Best smartwatch of 2018: Apple Watch Series 4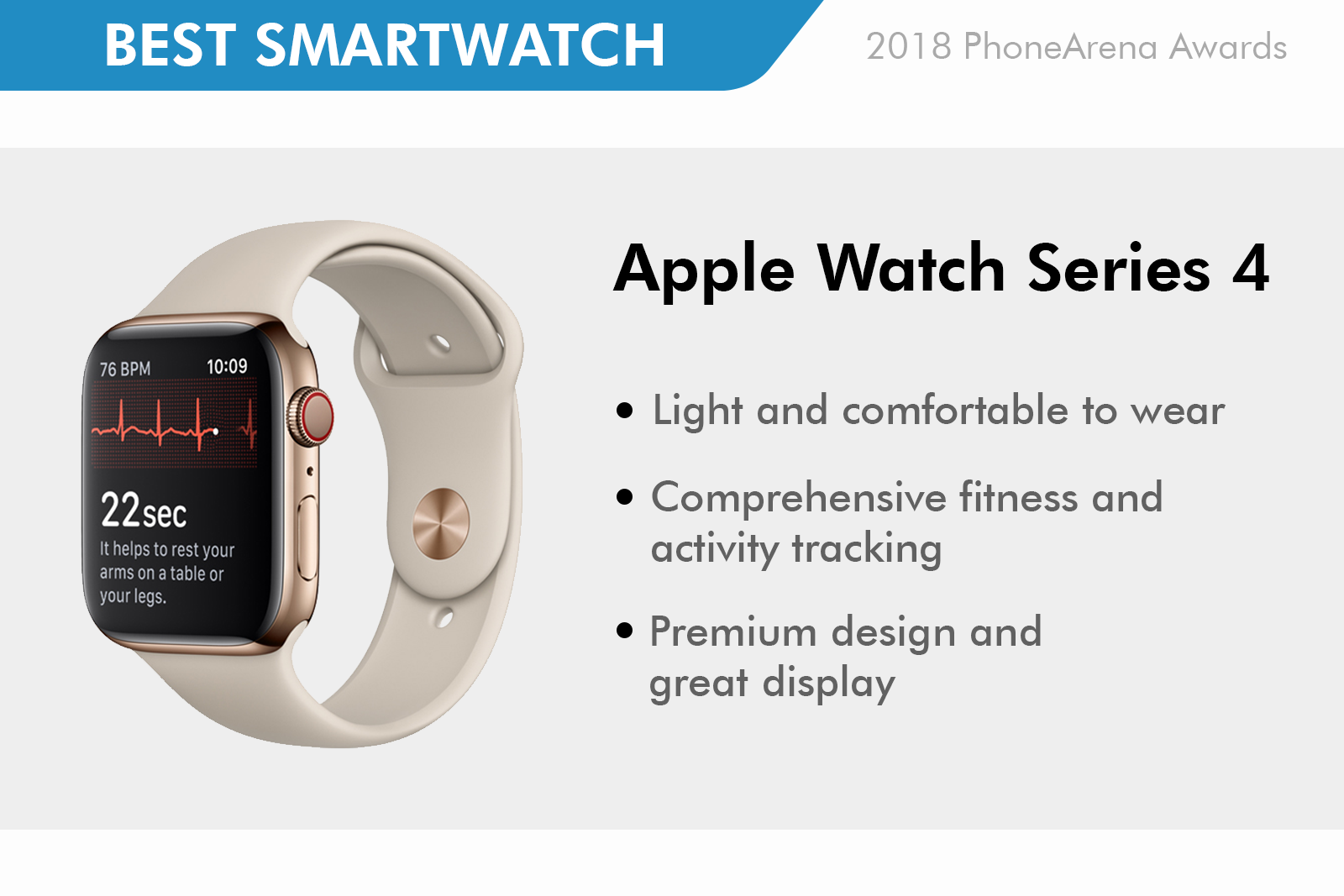 Smartwatches – you don't necessarily need one, but having one is cool nonetheless. And if you go for the Apple Watch Series 4, you won't be disappointed. It is the best and most exciting smartwatch we got to review this year: light and comfortable to wear, with stylish design and a great screen, and packed with sensors for fitness tracking, activity monitoring, and a whole lot more. On top of that, Apple's best smartwatch comes with a handful of features you won't get on any other smartwatch, including ECG readings and fall detection. That last one we hope you never get to see in action this winter.
Runner-up: Samsung Galaxy Watch
Samsung stepped up its smartwatch game with the release of the Gear S2 in 2015 – and it hasn't slowed down since! The Galaxy Watch is the newest addition to the company's lineup, and it can do a whole lot more than to count your steps. It is a full-fledged fitness companion and activity tracker – but also a stylish lifestyle accessory that doesn't look like a geeky toy when worn. We wouldn't mind finding one of these with our name on it under the tree this year.
Best tablet of 2018: iPad Pro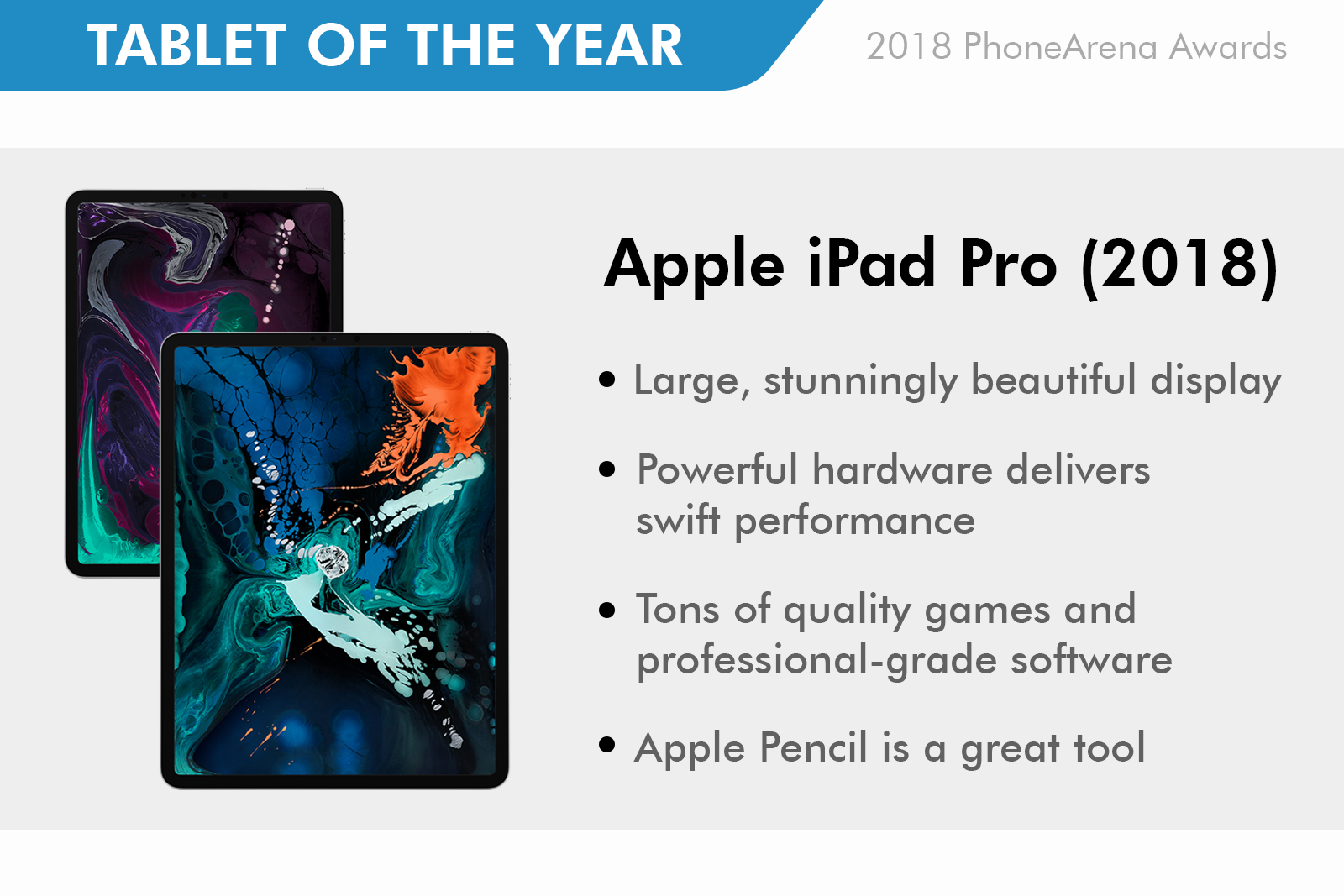 The newest iPad Pro is the winner in this category not only because it is a lightweight, powerful piece of kit with a gorgeous display and excellent battery life. It is the leader in its class not only because it is a gateway to a treasure trove of apps, games, and media within the Apple ecosystem. The iPad Pro is the best tablet of 2018 also because... other companies have mostly given up on competing with it, hence the alternatives are scarce. So if you need a tablet to keep you productive and/or entertained on the go, give the iPad Pro a look, and while you're at it, check out that Apple Pencil too.
Runner-up: Samsung Galaxy Tab S4
The Samsung Galaxy Tab S4 is the only iPad alternative worthy of attention. Among its key strengths are the fancy design and the beautiful display, but there's a whole lot more going for it. Samsung took the underwhelming Android tablet experience to a greater level by adding its own interface layer optimized for productivity on the go, with multitasking and support for its keyboard case accessory. And speaking of accessories, Samsung is bundling an S Pen with its Tab S4, so you can unleash your inner artist onto its canvas!
Best smartphone of 2018: Apple iPhone XS and XS Max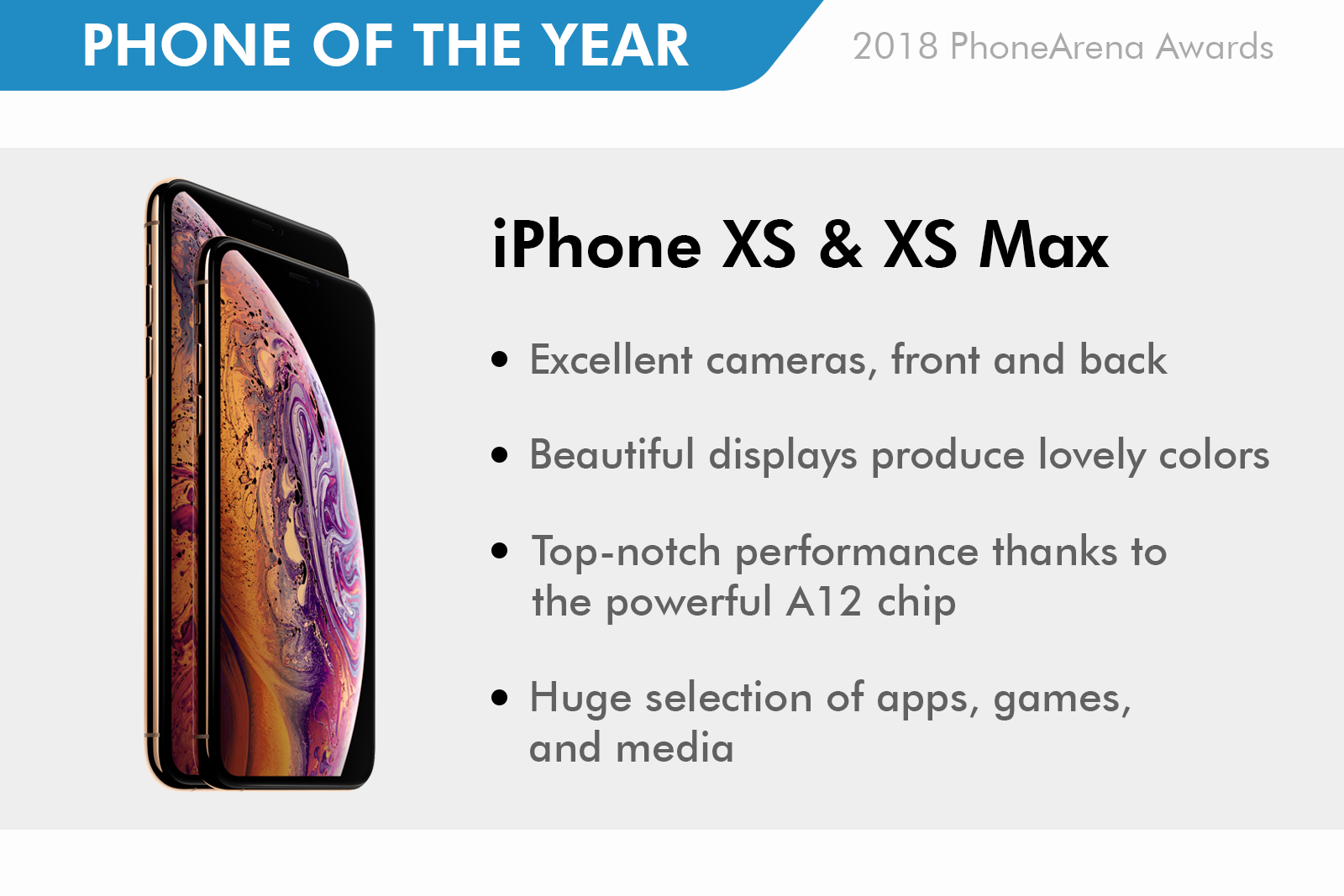 A lot of great phones launched throughout the course of 2018, making it as hard as ever to pick the top among them. But at the end of the day, we concluded that if one wants a reliable, good-looking, future-proof smartphone – no matter the price – then the iPhone XS and the iPhone XS Max are the phones to go with. As we've come to expect from an iPhone, the XS and XS Max deliver flawless performance, take lovely photos, and deliver gorgeous visuals on what are probably the best screens on a phone right now. Whether you'll be using this powerful tool as a $1000 Facebook machine, or as a pocket computer for photography, media creation, reading, or life organization is up to you.
Runner-up: Samsung Galaxy Note 9
The Samsung Galaxy Note 9 is still the ultimate Android phone, as long as money is no object. It does well everything a premium, high-end phone should do – and then some! In addition to the fast performance, gorgeous screen, and outstanding photo and video quality, owners can enjoy the convenience of Samsung's DeX Mode for productivity without the bulk, as well as the usefulness of the S Pen for sketching and note-taking when inspiration strikes. And all of that while getting more time than ever away from the charger thanks to the biggest battery ever in a Galaxy Note.