Apple's Powerbeats Pro workout earphones are massively discounted on Amazon
We may earn a commission if you make a purchase from the links on this page.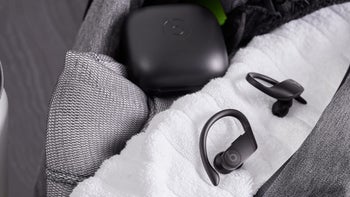 The Powerbeats Pro are definitely a decent choice if you're in the market for a pair of workout phones. They're sweat resistant, won't drop from your ears, and are compatible with both iOS and Android devices. More importantly, they're now cheaper than ever on Amazon in all three colors: Navy, Black, and Ivory.
Powered by Apple's H1 headphones chip, the
Powerbeats Pro
earphones feature adjustable, secure-fit earhooks that can be customized with multiple eartip options for maximum comfort. Also, they support Spatial Audio for immersive music, movies and games.
According to Apple, the Powerbeats Pro should last you around 9 hours of listening time, but with the charging case, you're looking at more than 24 hours of combined playback time, which is pretty neat.
Unlike some other earphones, the Powerbeats Pro feature dual audio controls, which means that each bud has full volume and track controls, allowing users to adjust their music without needing their devices.
With the Powerbeats Pro, you can take advantage of
Audio Sharing
, a pretty useful feature that allows you to listen to the same song with a friend. You just need to pair two sets of Beats headphones or
AirPods
to one iPhone to be able to enjoy it.
If you're an active person, you'll be happy to know that thanks to the optical sensors and motion accelerometers inside the Powerbeats Pro, the earphones can detect when they're placed in your year to start your workouts immediately.
But the best part, as we already mentioned earlier, is that these are massively discounted on Amazon. All three versions – Black, Ivory, and Navy – are $100 off for a limited time, a great deal if you need a pair of decent earphones for your workouts.
Although these should work seamlessly with both Android and iOS devices, you'll need to download the Beats app from the Google Play Store to pair the Powerbeats Pro with your Android device. If you're using an iPhone, you just need to enable Bluetooth and follow the on-screen instructions.
Recommended Stories