Apple sues the 'amoral mercenaries' from NSO who made the iPhone spyware Pegasus
3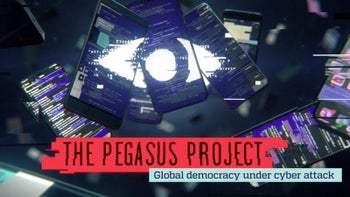 Remember NSO, the Israeli security company that created the
Pegasus spyware
that exploits iMessage and other vulnerabilities
to sell iPhone access to the highest bidder,
including authoritarian governments
?
Well,
Apple has now filed a lawsuit against it
, and all the better for its former CEO that he left NSO when he felt where the wind is blowing with the US government sanctions against it and all.
You can read the whole Apple vs NSO lawsuit filing here, as Apple's lawyers are using some pretty strong wording to describe the NSO's Pegasus spyware creation and the activities that it allowed:
Defendants are notorious hackers—amoral 21st century mercenaries who have created highly sophisticated cyber-surveillance machinery that invites routine and flagrant abuse. They design, develop, sell, deliver, deploy, operate, and maintain offensive and destructive malware and spyware products and services that have been used to target, attack, and harm Apple users, Apple products, and Apple. For their own commercial gain, they enable their customers to abuse those products and services to target individuals including government officials, journalists, businesspeople, activists, academics, and even U.S. citizens...

Defendants develop and deploy highly invasive spyware known collectively as "Pegasus," which NSO describes as a "cyber intelligence solution that enables [clients] … to remotely and covertly extract valuable intelligence from virtually any mobile device."16 While Defendants claim that their technology helps prevent crime, the U.S. Government's addition of NSO to the Entity List makes clear that laudable uses of this technology are not the only ones that NSO permits. Instead, on information and belief, Defendants conceal the enormous amounts of money they make from it and the despicable ways it is put to use...

In light of Apple's formidable security features and defenses, all but a very few truly exceptional malware attacks on Apple devices are unsuccessful. These attacks have been very carefully designed and deliberately targeted by highly sophisticated parties with extraordinary resources and capabilities—typically nation-states and their agencies or instrumentalities, or, in some cases, those that do business with them. The Defendants associate themselves with these entities to enable their malicious hacking of iOS, Android, and other technologies.
As far as the money that Apple is seeking to obtain as a redress from NSO sound, the amount sounds fairly humble in the lawsuit. "
Apple seeks an accounting and disgorgement of Defendants' ill-gotten data and profits in an amount to be proven at trial, and in excess of $75,000
," the filing says, but besides compensatory, the lawsuit also seeks punitive damages, and the sum total could very well spell the end of NSO's existence.