Would you buy a tiny screen handset like the new iPhone SE in 2020?
34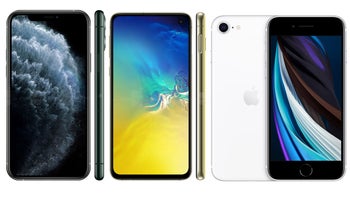 In the world of 6"-7" smartphone displays, one has to wonder what happened with those compact, powerful small phones that you could easily operate with one hand, and went unnoticed in your pocket or purse.
Hey, what about the
Pixel 4a
or the
iPhone 11 Pro
, and even the new
Galaxy S20
you say? OK, we stand corrected. There are, in fact, plenty of compact phones when you look around, at every specs and price point.
It is, however, the new "all-screen" and "bezel-less" design that allow a phone like the Galaxy S20 to fit its 6.2" panel in a tall and narrow body that is a sincerely good tradeoff between screen size and manageability.
The Pixel 4a, however, and iPhone 11 Pro, both not that much larger than the new iPhone SE, come with 5.8" displays. Just three years ago they would be considered borderline huge panels, and are now outliers in a world awash in 6"+ phone screens.
The iPhone SE 2020 edition, however, comes with a 4.7" display due to the enormous for the year 2020 standards top and bottom bezels. While we get that Apple tried to use as much parts from the iPhone 8 as possible to issue its cheapest ever iPhone and still have some hefty margin left, that screen diagonal is very small for today's standards.
With the iPhone SE, Apple aims to also expand the market share of its iOS subscription and streaming departments, yet there is not much media you can comfortably consume on a 4.7" display to begin with. This is why we wanted to ask you whether, in 2020, when we read and watch and communicate mostly on our phone screens, you'd be willing to buy one with a 4.7" display.
Recommended Stories