Amazon's Whisper Mode feature hits Echo devices in the US for discreet Alexa interaction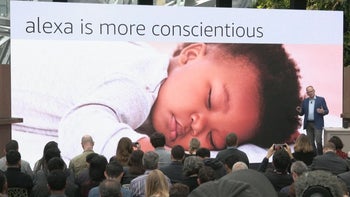 Amazon had loads of new stuff to
announce at a surprise September 20 event
, including a redesigned
Echo Show
with a larger display, refreshed versions of the
Echo Dot and Echo Plus
, a
trio of new Echo-branded products
focused on a premium audio experience, and even an Echo Wall Clock.

With it, you can now whisper to your Echo and Alexa will whisper back. Amazon has been working on this functionality for over a year, exploring various more natural ways for Alexa to interact with users.

As you can imagine, it wasn't easy to get the AI to intuitively react to advanced conversational cues like whispering, but ultimately, Amazon appears to have pulled it all off.

Whisper Mode could prove particularly useful for parents worried about waking up their children or simply those looking to keep the noise down in the morning or evening for various reasons. Say you want to check the weather conditions or traffic before leaving for work without waking up your spouse. Or silently get last night's sports scores.
Alexa should be able to understand your whispered requests just fine and answer in a similarly discreet way. All you have to do to enable the feature, at least in the US, where it's exclusively available for now, is tell Alexa to "turn on whisper mode." Alternatively, you can find "Whispered Responses" in the Settings menu of your
Alexa app
, after accessing "Alexa Account" and "Alexa Voice Responses."