Amazon's first-gen Echo Show is discounted to a crazy low $75 with 90-day warranty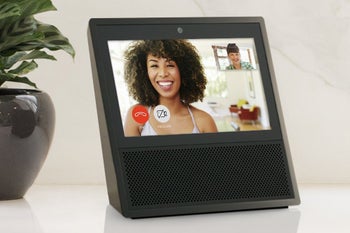 If you're in the market for a so-called smart display, i.e. a smart speaker with a screen, you may find it difficult to choose the right option these days. That's because there are a number of great such voice-controlled devices available at excellent prices at the time of this writing.

Meanwhile, the original Echo Show variant, which basically started this "smart display" craze more than 18 months ago, can be purchased for a crazy low $74.99 today only. The "catch", as you might expect, is that you're not looking at brand-new units here.

Instead, Woot is able to sell the first-gen Amazon Echo Show at an unbeatable 75 bucks with "minor cosmetic imperfections." We're talking about used items that have been returned, inspected, and restored to "fully working condition" by Amazon technicians.

They'll come repackaged in "non-retail boxes" and covered by a more than decent 90-day Woot limited warranty, also shipping for free nationwide as long as you have a valid Prime membership.

Keep in mind that Woot is a highly trusted Amazon-owned company, so you shouldn't be too worried about the working condition and cosmetic aspect of the Echo Show on sale for the next few hours only.

It's also worth pointing out that Amazon no longer sells the 2017-released Echo Show as new, while charging $119.99 for a certified refurbished device. $74.99 is thus a bargain price for an Alexa-powered gadget capable of streaming music, making video calls, playing video clips, and controlling your smart home (with a separate hub) simply by listening to your voice.