Updated AirPods Pro with MagSafe are already $29 off
0
We may earn a commission if you make a purchase from the links on this page.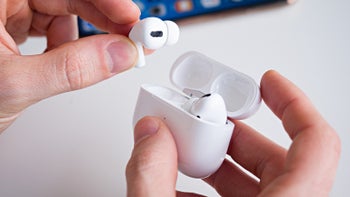 Last week
Apple
announced the new
AirPods 3
with MagSafe charging case and a price of $179. What many didn't notice is that the
AirPods
Pro now also come with a MagSafe charging case. The slightly updated earbuds have already seen their first discount at Amazon where you can buy them for $29 off their retail price.
Apple's AirPods Pro got a slight update to their charging case, but everything else was left unchanged. This isn't something surprising, as these are still a great pair of earbuds to have. The AirPods Pro have rubber ear tips and feature ANC (active noise cancellation) with Transparency mode. This makes for a great audio companion both in loud and quiet surroundings.
The
AirPods Pro were introduced back in 2019
and have become a massive success for Apple. Their charging case has always supported
wireless charging
, but now it adds extra support for MagSafe. The non-MagSafe AirPods Pro have seen an even bigger discount at Amazon, so if you don't care about magnets you can save more by choosing the older version.
Apple MagSafe instead of USB-C
MagSafe is Apple's magnetic connector
, which is used in accessories like the wireless MagSafe Charger and the MagSafe wallet. A MagSafe-certified charger is designed to optimize the wireless charging process by providing ideal alignment -- something that can't be achieved as easily with standard wireless chargers. Ever since it was introduced with the
iPhone 12
series there's been lots of speculation that Apple is making the iPhone portless in the future. This means that Apple is willing to ditch the Lightning port altogether instead of implementing USB-C.
The Cupertino company has recently been
under pressure from the European Union
to finally ditch the Lightning port and use USB-C instead. If Apple does bring USB-C to the iPhone, this will make the lightning port history. Keep in mind that this won't be the first mobile Apple device to have this port. The latest
iPad Pro
, iPad mini, and iPad Air tablets also use the universal charging port.
Time will tell if Apple is going to comply with the European Union and its ruling, or it will avoid it by making the
iPhone 14
fully portless. Until then, check out our
review of the AirPods Pro
and what they are all about.