The AirPods 3 and AirPods Pro are not as similar on the inside as on the outside
We may earn a commission if you make a purchase from the links on this page.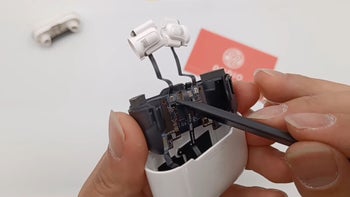 The AirPods 3
, one of
the best true wireless earbuds
on the market, started shipping just over a week ago. If you are getting a pair for yourself, you will be receiving a significant update compared to the last generation.
The new version offers a slew of improvements including head-tracking Spatial Audio, support for Dolby Atmos audio, a MagSafe wireless charging case, and more. Another significant change compared to the AirPods 2 is an updated design, which is practically the same as that of the
AirPods Pro
.
However, a teardown of the 3rd generation AirPods by
52audio
reveals they share fewer similarities with the AirPods Pro on the inside. The first thing we catch a glimpse of are the newly added magnets, which are there so that the case is compatible with the MagSafe charger—something no other AirPods have.
The next difference we spot between the AirPods 3 and AirPods Pro is the charging case battery. The former has one large battery, while the latter has two small ones. Besides that small difference in the approach, both batteries have roughly the same amount of maximum charge capacity.
Moving on from the case and on to the AirPods 3 themselves, we see that both bad boys are rocking completely new skin detection sensors, another first in the product's history. They are sensitive enough to determine whether it is skin or some other surface they are close to. In other words, they won't start playing if you put them anywhere else but on yourself.
One more little fact that you might or might not know is that the AirPods 3 case is waterproof. That is not the case (Ha! Pun not intended.) with other AirPod models as of yet.
If you are eyeing the AirPods 3 and want to make use of all the new features, you can get them from the widget below: