YouTube, Twitter or Reddit next to be on the D.C. hot seat says cyber security expert
17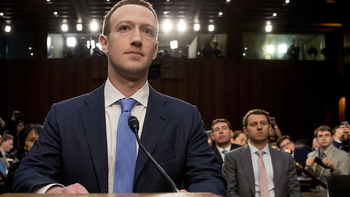 Facebook co-founder and CEO Mark Zuckerberg spent Tuesday and Wednesday getting grilled by the Senate and the House, respectively. And if there is one thing that we can take away from the media circus, it's this: Congress hasn't a clue about how technology works. Granted, not everyone throwing questions at Zuckerberg was naive about tech, but we did hear one lawmaker sound incredulous when Zuckerberg responded to an inquiry by confirming that Facebook is free. So, the follow up question was something like "If Facebook is free, how do you make money?" And we have to give the Facebook executive some credit for his restraint. With just the hint of an eye roll, Mr. Zuckerberg calmly explained that Facebook sells ads.
Given the low tech IQ of most U.S. lawmakers, it would behoove them to bone up on the subject before they start peppering the executives of other tech companies. The CTO of IT consulting firm Brainlink International, Raj Goel, says that YouTube, Twitter and perhaps Reddit are next in line to face lawmakers just itching to regulate the industry in some manner. Goel, a cyber security specialist, says that like Facebook, Google is guilty of data mining and profiling. In addition he points out that "YouTube has been very, very actively used by disinformation campaigns, political campaigns, scam artists."
Goel states that like YouTube, Twitter is full of users spreading disinformation. He says that the company is afraid to remove accounts because they fear a knee-jerk reaction from investors. "If Twitter blocks up 50 million users, their stock tanks," the executive said.
At the end of the day, many expect to see Congress enact new regulations against companies that collect data from the public. Dan Wang, an analyst at Gavekal Research, says that it is inevitable that internet giants like Facebook and Google will see "greater regulation." NYU Professor Vasant Dhar, who is a data scientist, says that YouTube and Twitter are "under fire."
"More than Facebook, Google, Amazon, and Twitter are part of the problem. They've created monopolies in search, online commerce, and communications but were not particularly careful with data. The rise of new, powerful companies leads to the demonization of them and the urge to regulate them."-Sri Ambati, CEO, H2O.ai
Returning to Zuckerberg's testimony that took place early last week, Brainlink's Goel gave the executive a B-minus grade for his performance over the two days, but only a D-minus for honesty and transparency. "He constantly kept saying users have control of their information," Goel said. "No they don't. Try deleting your account off of Facebook."
source:
Barron's
,
FOXBusiness