MOGA Pro Power Controller hands-on
7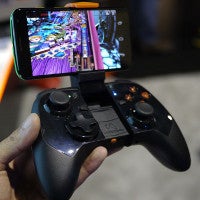 Earlier in the year, the
Moga Pro controller
impressed us in so many ways, as it bridged the gap between full home console play with mobile. No longer did we need to toil away using on-screen controllers for many of today's popular mobile game consoles. Instead, the Moga Pro provided us with the perfect gaming experience, since the console-like controller made it significantly easier to play our games. Without skipping a beat, the folks over at Moga are back for round two already with the Moga Pro Power controller.
During Pax Prime in Seattle, we got the chance to check out the Moga Pro Power, which brings some new features over its predecessor. Visually, it doesn't deviate from the design of the Moga Pro – a good thing to tell you the truth, since it already adhered to the style and button configuration layout of today's console controllers. Therefore, we're presented with a rich layout that consists of two analog sticks, a directional pad, four action buttons, two shoulder bumpers, and two analog triggers. Donning the same plastic construction, it feels super lightweight when it's use independently. Strapping on a smartphone, even large ones like the Galaxy S4, the weight is evenly distributed – without finding one side to be more weighty than the other.
So far, so good. Right? Of course it is, but Moga throws in two new features! First, the unit now packs along a full-sized USB port, which enables users to charge their smartphones on the go with the unit's own 2,200 mAh battery. Essentially, you won't have to worry or be concerned about your smartphone turning off due to low battery. Secondly, there's a nice perk that specifically targets developers – a new feature that enables multi-player support between 4 controllers. Needless to say, it's a swell thing to have when you're playing a game on the big screen.
We've all lamented about on-screen controls cluttering up our precious view with certain games, so it's nice to see that the Moga Pro Power is moving in the correct direction. It's not a drastic change, but the subtle design changes and new features help to make mobile gaming in line to the console experience. As for pricing, it'll be sporting a $79.99 price point when it launches sometime this upcoming holiday season.
MOGA Pro Power Controller hands-on