Zeiss VR One Plus may be the universal VR headset you've been waiting for
4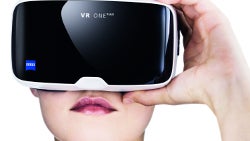 By accommodating any phone with screen up to 5.5", and allowing people to use it with their prescription glasses on, the new edition of the
Zeiss VR One
head gear could just be what you've been waiting for. Dubbed Zeiss VR One Plus, the contraption has a "universal tray" of sorts, which slots phones with screens no larger than 5.5 inches. Previously, the VR One was able to slot 5.2" diagonals at the max, but phone displays have grown on average since then.
Not only is the Zeiss VR One Plus platform-agnostic, i.e. it doesn't matter if you are going to put an
iPhone 6s Plus
, or an
Xperia Z5 Premium
in it to watch virtual reality content, but it also takes special pains to accommodate people with prescription glasses - you know, like a lot of the geeks that would use such a thing. Being a Zeiss product, the VR One Plus will fit your glasses comfortably, and will even leave just the perfect amount of space between them and the oculars, so that you don't get dizzy while watching or playing.
The pricing? Not that bad, actually - at 129 EUR or USD it's not as cheap as some
cardboard
alternatives, but it slots right up there with the likes of Samsung's
Gear VR
that is of limited use outside the Galaxy ecosystem, and is certainly a fine entry point for the world of virtual reality that is only poised to explode in the next few years. Shipping starts from mid-August, but you can preorder right now from the link bellow if the VR One Plus has tickled your virtual fancy.