ZTE's intriguing Axon Phone will feature a metallic body, hi-fi sound, large battery, and more
14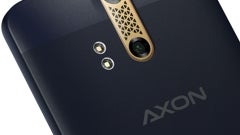 ZTE is gearing up to launching a new high-end smartphone in the US. Called Axon Phone, the handset will be presented live during an event held next week, on July 14. That's when we'll likely find out details about the smartphone's price and release date.
Last month, when
we first saw the Axon Phone
, we didn't know much about it. But now we have new details, thanks to the fact that the handset's official website has been updated.
As previously mentioned, the Axon Phone features a dual camera on the back (unknown Megapixel count). This can shoot 4K video, and provides "incredibly fast auto-focus". Moreover, "you can also refocus pics after you take them. Then, blur backgrounds for a beautiful bokeh effect." Needless to day, all this sounds similar to what the dual camera of the HTC One M8 can do. Hopefully, ZTE has put a better camera sensor inside the Axon (HTC's camera was a let down for pretty much everyone). As for the front-facing shooter of the upcoming handset, this will let you take selfies just by smiling at it.
ZTE says that the Axon Phone will be "the first true high-fidelity phone available in the US", offering "amazing high-fidelity sound playback." Moreover, the handset will come with twin microphones for hi-fi sound recording.
The Axon Phone has a "super-simplified Android interface" (probably based on stock Android Lollipop), a "lightning-fast processor", 4 GB of RAM, and a "large battery." All this is stuffed inside a "sleek metallic body" that will be available in three color versions: blue, gold, and silver.
All in all, the Axon Phone is intriguing. But we'll have to test the smartphone before we can agree with the big words that ZTE is currently using to describe it.
Before the Axon Phone is launched, you can enter a contest to win one, plus up to $10,000 in cash (US only). Check out the second source link below for more details on the contest.
source:
Axon Phone website
,
contest
Recommended Stories