ZTE will launch its new 'Axon Phone' to the U.S. next month with 4 GB of RAM, dual rear cameras, advanced audio and more
12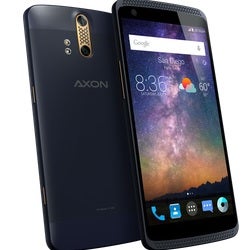 ZTE is leading the way for large China-based smartphone manufacturers seeking to impact the West, particularly the lucrative United States market. With devices like the
Nubia Z9S
and 4K display-packing
Star 3
apparently in the offing, the company has generated a fair amount of hype in recent times. References to an "Axon"-branded smartphone have apparently been prevalent in press releases for some time now, but largely ignored until PC Mag ascertained that Axon is simply a rebrand of ZTE. Thus, this smartphone is a bigger deal than first thought, and with an announcement slated for the middle of next month, we won't need to wait too long to find out more about this handset.
So far, we know that it'll pack a mammoth 4 GB of RAM, and ZTE is touting an advanced audio experience. There will also -- for better or for worse -- be two rear-facing cameras. HTC is one of a number of companies to have delved into this market in its recent history, with the two main shooters adding a fake bokeh effect with the
One M8
. Seen by some as a marketing gimmick rather than a feature that produces vastly-superior shots, here's hoping that the Axon Phone doesn't disappoint.
As aforementioned, there'll be a special event top launch the product next month on 14th July, and proceedings will be held in New York City. There's also a contest running for a chance to win a smartphone and a cool $10,000, so if you wish to enter, check the source.
As we wait on the announcement, check the images below of the device in black and white as seen on the Axon Phone website, and let us know of your first impressions via the comments.