ZTE says Huawei lifted the Nexus 6P design from its Grand S (Athena)
57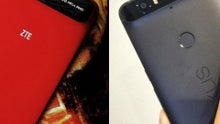 Remember ZTE's Athena or
Grand S
? Neither does most of the phone-buying public these days, but the ZTE marketing chief is apparently convinced that Huawei has ripped it off to enter the big leagues with its first Nexus handset, the
6P
. ZTE's head of marketing Lu Qian Hao took to the Weibo airwaves, and indirectly hinted that the little black strip on the back of the 6P is a derivative of the Athena's own elliptical strip right at the same place.
While on a Reddit AMA session yesterday, Google folks explained that the "hump" at the upper part of the two-tone back was an engineering challenge and marvel at the same time, as it had to house one of the largest camera sensors in a mobile phone, together with the NFC and other connectivity antennas. They concluded, however, that the hump has been made aesthetically pleasing, and ergonomic to the touch, adding to the unique 6P appearance.
Well, not so unique, if you give ear to ZTE's marketing chief, as you can see in this crudely translated "sex change" posting where the two phones are depicted side by side. What do you think?