Leaked official teaser for unannounced ZTE Nubia Z18S shows a screen on both sides of the device
11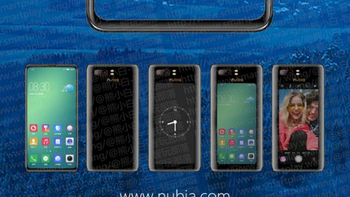 What? Is this a mistake? Here is a story about ZTE that is actually about a
phone
? A leaked promotional teaser for an unannounced ZTE handset called the Nubia Z18S, reveals that the device carries a screen on both sides of the device. And there is only one camera (front-facing) on board. This isn't the first time we've seen a handset carry a front and back display.
You might recall the YotaPhone
, which features a rear-facing black and white E-Ink display.
The teaser shows a color display on the back of the ZTE unit, which would seemingly rule out an E-Ink panel for now. Most likely, the screen on back is a low resolution LCD panel. Because the back screen would be used for selfies and video chats, it would do the tasks normally handled by a phone's front-facing selfie camera. The teaser shows the rear-facing screen with an analog clock, a home screen with app icons, and a photograph (see the photo at the top of this article).
Adding the rear display would apparently be good news for this divided world. No, nothing political, but some of the planet adores the notch, others put up with it, and the remainder can't stand it. With the rear display, a notch might not be necessary. But there is some question whether there will be a notch on the ZTE Nubia Z18S. There have been leaked images disseminated of the device wearing a notch similar to the one found on the
Essential Phone
. You can see those pictures and others by clicking on the slideshow near the bottom of this article.
One thing that we do expect to see is the Snapdragon 845 Mobile Platform under the hood. Just before the end of last year, a list of all handsets expected to be powered by Qualcomm's top-of-the-line SoC leaked, and the Nubia Z18S was on that list.
Right now, it is not known when ZTE plans on unveiling this device, and whether it would be able to sell it in the U.S. where it is the fourth largest smartphone vendor.