ZTE Amigo is a QWERTY slider with Android 2.2 Froyo
1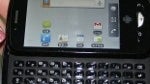 Along with the high-end (for its Android lineup)
ZTE Skate
, the manufacturer lifted the curtain from a smaller creation, the ZTE Amigo. In all honesty, it has been making the rounds since last year, but people are just now paying attention to ZTE, when it turned out it's the 4th largest cell phone maker in the world thanks to selling affordable phones in emerging markets by the boatloads.
The
ZTE Amigo
main selling point is the presence of a physical slide-out QWERTY keyboard with four rows of keys. It sports a
3.5"
display, and is powered by an unspecified chipset, probably nothing very fast, considering that even the ZTE Skate got an 800MHz Qualcomm silicon. On the rear you can find a 3MP camera without a flash.
Android phones with QWERTY keyboards are few and far between, so any entrance in that category helps. Knowing ZTE, which, it recently turned out, is the 5th largest cell phone manufacturer in the world, its Android creations won't break the bank.
The ZTE Amigo will be out some time in May in the UK. Nothing too exciting, we know.
ZTE didn't skip the chance to show again its
ZTE Blade
Android phone, as it has done on each major show last year. It is already being sold in several countries for a while, and the company promised an update from 2.1 to Android 2.2 Froyo in January. The ZTE Blade has a 3.5" touchscreen with 480x800 pixels, 3.2MP camera, and, in the case with the UK version in grey, some units even shipped with OLED displays. We hope ZTE won't drag this one along on the next year's Expo too.
source: ZTE via
PhoneScoop