Your Nexus 6 met the concrete and is now in shambles? Google may replace it for you
7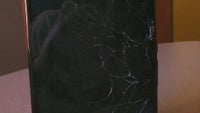 We've
heard before
that Google may be working on a program, which allows unfortunate Nexus owners who managed to destroy their handset in an accident, to get a replacement, albeit a refurbished unit, cost-free. Details are still a bit hazy and not everyone has had success with getting their phones replaced, but the general gist of it is that if you own a first-hand-bought
Google Nexus 5
phone and happen to, say, drop it and shatter its screen – Google will try and replace the unit (one-time offer per purchased phone only).
Well, it seems this replace policy is also valid for
Nexus 6
owners, as an (un)lucky Reddit user reports that after dropping and shattering their Lollipop-laden phablet on the cold pavement, simply writing to Google about the incident resulted in a new phone being immediately shipped to them. The device was bought from the Google Play store, which probably helped with things being so speedy, and the user had to send the broken unit back, of course.
Now, we'd wager that there is still a certain amount of chance involved with things going so smoothly, but still – there you have it. Don't go throwing your Nexus 6 around, believing it's invincible, but if you do happen to have an unlucky day where the (not-so) little guy just decides to slip out of your hand or pocket – know that Google may have you covered.