Did you break your precious Nexus 5? Google might replace it for free
8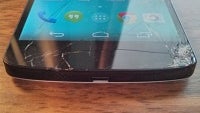 Every gadget geek knows that sound, the sound of polycarbonate and Gorilla Glass slapping and skipping across concrete. Or the familiar smack as we ham-fist our lifeblood smartphone out of our fingers, and send it to meet the cold hard floor, that dark crevasse, deep pool of water, or the toilet.
Even if we take the prudent steps of protecting our precious with a case, things can still go wrong. Then we are faced with a dilemma, one that is very trying if we are on a tight budget. How do we replace our busted up smartphone, and with what do we replace it with?
For Nexus buyers, the device is affordable, and it is a premium handset to boot. Plus, you don't even need an invitation to buy one. If you break it, it still hurts because even with the lower price point, some of us probably had other plans for the $400 it might cost to replace it. What do you do? What will you do? There is a robust secondary market to buy new and used devices on Craigslist, eBay, and Swappa, but why bother with that if you can go right back to the source?
If you bought your
Nexus 5
off Google Play and destroyed it somehow (cracked, water damage, doesn't seem to matter), it looks like the good folks from Mountain View will send you a replacement, free of charge, one time. All you have to do is send your damaged device back to Google.
The replacement device might be a refurbished unit, but that is still better than nothing. What we do not know is if this replacement program is region specific, or for how long it will be going on. We hate making assumptions, but it seems a pretty good way to make room in the warehouse for new hardware.
To see if you can use the program, simply call Google Play customer service, and describe the damage to your Nexus 5. Let us know if this works for you, and if so, where you are so others in your locale can make a call if needed.
sources:
Droid Life
and
Google+